Hen Party Games That Don't Need Alcohol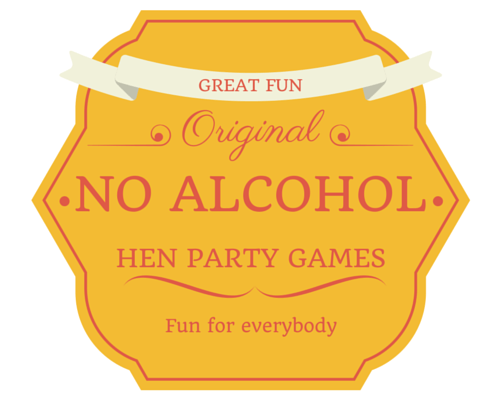 There's a common perception that every hen party is an alcohol fuelled binge session while dressed as nurses.
But what about if you want hen party game ideas that don't involve drinking – perhaps you simply don't drink or are pregnant?
Well, the good news is that there's still plenty of hen party games to choose from that don't involve doing shots, going in rounds or generally consuming large quantities of alcohol.
We've pulled together a selection of 12 of our very best games from our full list of hen party games that you can play without alcohol, along with a link to each of the full articles.
We can't guarantee that these games will be without embarrassment but we can  be sure that they can be played without alcohol!
The classic hen party game of earning points for collecting items of completing challenges during your hen do.
A great game for hen parties that aren't drinking.  Can your hens draw wedding related words for the rest of their team to guess?
Just like Wedding Pictionary but quite a bit ruder.  Some of these words aren't for the faint hearted and there may even be one or two that you need to Google 😉
This is a great ice breaker game as it helps everybody get to know each other, gives people a talking point and isn't embarrassing for people at all.
Who can make the best couture dress from bog roll?  No alcohol needed as this game has hilarious results even when you're sober.
If you've ever played pin the tail on the donkey then you should get the idea of what this hen party game is about – great fun!
How good liar's are your hen party?  Can they pass off a lie about themselves as the truth in order to win points?  This is another good ice breaker game
Men say it's hard being a man, but we're not so sure.  This game gives you the opportunity to find out by trying to knock over bottles with your fake penis – who has the best thrust?
Which hen party team can get a balloon along all their hen party without using their hands – make it tricky by choosing which body parts they can and can't use.
This game puts a twist on pass the parcel and your fancy dress plans by each hen unwrapping their fancy dress outfit as the music stops – definitely a game for hen parties that are up for a laugh.
Who has a booty worth shaking?  This game tests your hen's skills by trying to shake balls out of a tissue box in a certain time – can they make their booty work for them?
There's not really a lot to explain about this game – it's brilliant fun to see the interpretations that your hens come up with
Grown up hungry hippos (No alcohol but not really suitable for pregnant ladies)
You need a bit of space for this game but it's absolutely hilarious – it's hungry hippos where the hippos are members of your hen party