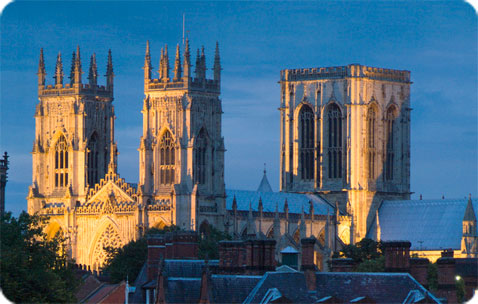 York is quite a small city but you won't go short of stag do ideas. The ancient walled city has a vibrant nightlife, a cultured café scene, top quality and budget hotels and a wide range of activities so there's a stag party out there to suit every budget.
For ease of use here's the activities you'll find listed in this article – we've trawled the web to bring you the very best:
Classic Stag Do Ideas
Aerial Assault Course
Quad Bikes/Rage Buggies
Laser Combat
Multi-Activity Days
Treasure Hunt
Golf
Go Karting
York Races
Alternative & Unusual Stag Do Ideas
Cycling
Record Your Own Song
Ghost Tour
River Cruise
Restaurant Tour
Stag Do Ideas: Activities
York is full of classic, alternative and unusual activity ideas for stag parties to enjoy.  There's everything from aerial assault courses to their world famous races, so it's really just about finding something that suits the tastes and budget of your stag party.
Aerial Assault Course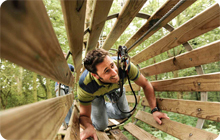 Test the nerve of your stag party and see who has a head for heights with a challenging assault course in the tree tops.
You'll get a full safety briefing and then can tackle the zip wires, platform jumps, and tarzan swings.  Aerial assault courses offer great value for stag do's and can easily fill a few hours of your weekend. http://goape.co.uk/sites/dalby http://www.camphill.co.uk/activities/aerial-extreme-high-wire-adventure-course.html
Quad Bikes/Rage Buggies
Head in to the countryside for some four wheeled fun with a quad bike tour.  You'll get a full safety briefing and both courses below are suitable for complete beginners so you can relax and have a laugh with your stag party mates as you take on these purpose built courses.
If you want something a bit more thrilling and unusualthen try Rage Buggies at Camp Hill Estate.  These high speed machines were voted the best off road vehicle and you'll be guaranteed a great day as you split in to teams and try to record the fastest time of the day to win.
Stag party idea:  Why not put a little wager on who'll have the best time, and set a forfeit for the worst driver? http://www.camphill.co.uk/platinum-activities.html http://www.motomaniatrax.co.uk/
Laser Combat
If paintball isn't high-tech enough for your stag party then take your battle 21st century with laser combat. You'll be armed with a choice of precision weapons (sniper, assault rifle, sub machine gun), split in to teams and let loose in the forest to annihilate each other – what could be a better idea for a stag do? http://www.camphill.co.uk/activities/laser-combat.html http://go-ballistic.co.uk/en/activity/laser_combat/york/oTown-960238_oAct-7_oCat-1 http://activity-guide.co.uk/en/activity/laser_combat/york/oTown-960238_oAct-7_oCat-1
Multi-activity days
Try a bit of everything – this is a great idea for stag parties as there will be something to suit everybody: http://www.camphill.co.uk/
Treasure Hunts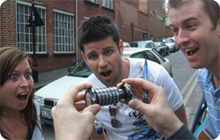 Get to see the city in an alternative way with a treasure hunt.  Take a fully managed option or choose to run your own with easy to use packs.
It's a great way to get your stag party moving round the city and working together (there's even a pub based challenge). http://www.huntthegoose.co.uk/Locations/View/north-york.aspx http://www.treasure-hunt-fun.co.uk/
Golf
What better way to clear your head from the night before of chill out before a big night on the town than with 18 holes with your mates on one of York's scenic golf courses.
Stag Party Idea: don't forget to check the dress code and let everybody on the stag do know so there aren't any problems when you turn up! http://www.kpclub.co.uk/ http://heworthgolfclub.co.uk/
Go-Karting
A classic stag party idea which lets you prove who really is the best driver!  Get your heart pumping and adrenaline flowing as you try to beat your mates and clock the fastest laps of the day.
Stag Party Idea:  Why not make it extra challenging and have a bet amongst yourselves on who will be triumphant. http://www.karting.uk.com/ http://kartingnation.co.uk/en/venues/oTown-york http://www.proam-karting.co.uk/
York races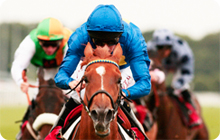 What can be better than a day at the gee-gees (that's slang for horses – you'd better pick up with the lingo if you're going to walk away with money in your pocket).
York has a fantastic racecourse with top events, perfectly manicured lawns and an award winning grandstand. http://www.yorkracecourse.co.uk
Alternative & Unusual Stag Party Ideas
Diggerland Yorkshire
Want to try something different? Diggerland does VIP 'grown up' parties!
There's a whole bunch of different rides and all the stags are going to get the chance to operate REAL diggers, dumper trucks, and other construction machinery.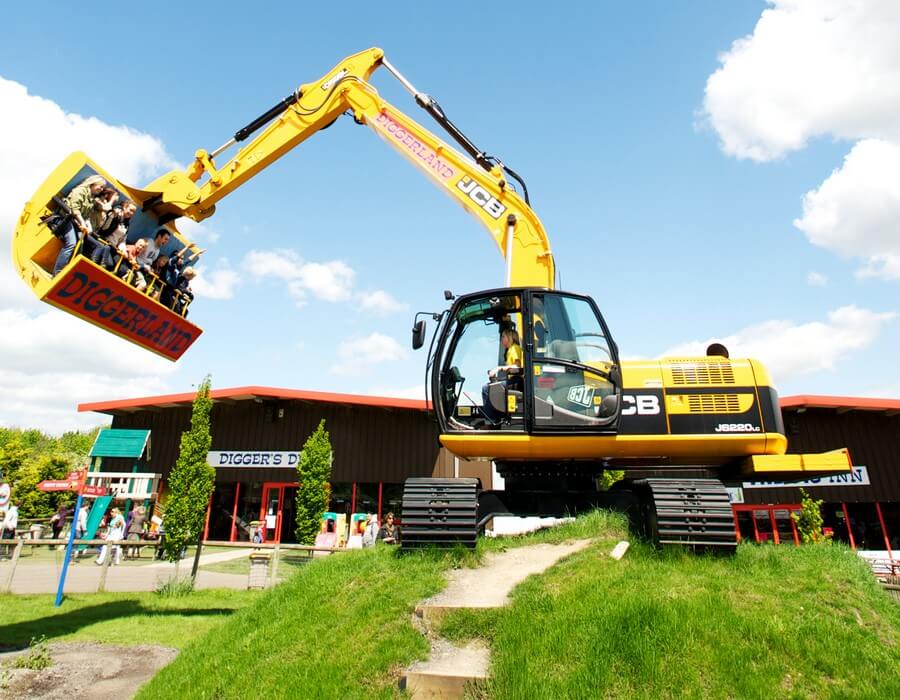 There's 3 packages to choose from: Daytime while the park is open, Daytime while the park is closed and Evening when the park is closed – each with subtle differences. So it's even possible to get your VIP party booked when the park is closed to the general public. Check out the different packages here.
http://www.diggerland.com/parties-adult/
Cycling
If you're looking for an alternative stag party idea that will allow you to see the city of York and the surrounding area then why not hire a Mega Bike?  The bikes come in a variety of styles including peddle powered sofa! http://www.getcycling.org.uk/megabikes.php
Record Your Own Song
Are you and your stag party the next Take That?  Put your singing skills to the test in this professional studio as you record your own track.
You can choose almost any music genre and they'll even play it in a local bar/club for you the same night. http://www.precentor.co.uk/services.php
 Ghost Tour
Do you see dead people?  Frighten everybody on your stag party and prove who really is the bravest with a ghost tour.  Being an ancient city York has its fair share of ghostly sightings and you'll definitely be creeped out as you head along dimly lit, narrow alleyways listening to your expert guide.
Stag Party Idea:   An easy one – dress your stag as zombie! http://www.ghostdetective.com/ http://www.ghosttrail.co.uk/ http://www.ghosthunt.co.uk/
River Cruise
Enjoy a classic river boat trip down the Ouse at night or during the day for your stag party.  Grab a drink the bar and enjoy the commentary of the captain on your 45 minute trip.  You can either join a regular cruise or you can make a private booking. http://www.yorkboat.co.uk/
Restaurant Tour
A really unique and alternative stag party idea for those who like their food.  Simply choose a theme of food you want to try and you'll be guided to 4 restaurants to sample their delights over the night!  You can choose from: Mediterranean, posh nosh, modern eclectic and historic York restaurants.
Each venue is only 5-10 minutes from each other and you'll be guided the whole evening.  Really worth considering if your idea of a good night isn't hitting the down to get legless. http://www.dineabout.co.uk/
Food and Drink
Being quite a compact city York is a great place for eating and drinking on your stag party, as you can walk around it easily and never stray too far from the action.
It's a good idea to always call bars ahead to get on the guest list and check large groups will get in (especially if you're in fancy dress). Here are a few bars that you may want to try during your stag party:
Food
Travel
York is an easy destination to get to for stag parties as it's on the east coast mainline for trains and has good road connections.
By Air
Leeds/Bradford is the nearest airport (airport code LBA) but if you're already in the UK you may be better heading to York by train or car as you still have to travel to York from the airport.
By Train
You may not think it but York is a good central location if you have people travelling from around the country for you stag party.  It's under 2 hours to London and only 2 ½ to Edinburgh Plan your rail journey: http://www.nationalrail.co.uk/
By Car
York is just 20 minutes from the M1/M62 and has good road links from around the country.  Stag Party Idea:  Always check if there's parking in your hotel, or nearby, and how much this will cost.  Don't forget to share it with the rest of the stag party. Plan your journey: http://www.theaa.com/route-planner/index.jsp
Help make this article better!
If you've been on a stag do to York then we'd love to hear your experiences to make this article better for those currently organising their own stag do.
Have we missed a classic, alternative or unusual stag party activity? Then let us know!
If you're thinking of a northern city then why not consider having your stag party in Newcastle, Liverpool or Manchester?
Stay Safe
We're sure you'll have a great time on your stag party in York but our Essential Guide to Stag Party Safety will help things go safely and smoothly.