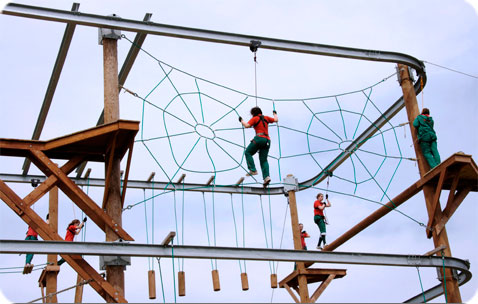 A friendly Irish welcome, fantastic activities, lively nightlife, great food and scenic countryside and coast all await your hen party in Dublin. Dublin is one of Europe's top tourism destinations and very popular with hen parties, so you can get in to the thick of action in Dublin city centre or there's plenty of choice for activities, food and drink if you want a more relaxed or low key hen night.
Whatever you're after take a look through our article for some hen party ideas before you visit, and don't forget to read our Essential Guide to Hen Party Safety.
Here's a brief overview of what you'll find in this article:
Classic Hen Party Ideas:
Segway
Adventure Centre
White Water Rafting
Treasure Hunt
Gaelic Games
Windsurfing, Kayaking & Stand Up Paddling
Greyhound Racing
Go Karting
Party Bus
Classy Hen Party Ideas:
Horse Racing
Sailing
Guinness Tour and Gravity bar
Jameson Distillery Tour
Irish Dancing
Secret Castle of Magic
Spa
Hen Party Ideas: Activities
Dublin really is one of the best cities for its choice of activities that you can take part in on your hen night. Located on the coast there's a lot of watersports to choose from but if you want to keep your feet on dry land then there's still something to suit every taste and budget.  Read on for our pick of the classic, unusual and alternative hen party activity ideas…
Hen Party Idea: Involve your bride with picking activities and think of an alternative in case people don't want to participate in your main activity.
Segway Tour
Definitely a lazy, but fun and alternative way for your hen party to see Dublin! Hop on board these high-tec 'self balancing personal vehicles' and whizz round the city on a guided tour. Your personal guide will help the city come alive for your hen party as you take in all the sights. A great way to spend an afternoon in Dublin.
Adventure Centre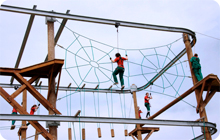 Put your hen party through their paces with one of the activities at Xtreme or why not book a multi-activity day? Test your bravery on the aerial assault course or 300m zip line, or skill with clay pigeon shooting or archery.
Hen Party Idea: Why not book two activities; one for the braver amongst your hen party such as aerial trekking and something a bit calmer for those who aren't as up for it, such as archery. That way everybody is at the same place taking part in an activity rather than being left at the hotel or heading somewhere else.
http://www.xtreme.ie/locations/courtlough/
White Water Rafting:
Hit the rapids with up to 8 of your mates for the ultimate alternative hen party adrenaline activity! Spend an afternoon taking on a challenging course under expert guidance where you'll need team work and communication to keep out of the water. Hen party idea: Take along some hot drinks in a flask for when you finish.
http://www.rafting.ie/Rafting.ie/Home.html
Treasure Hunt
Explore Dublin in a unique way with a Hunt the Goose treasure hunt.  You can choose from a fully managed hunt to a self managed activity, but either way your hen party will have great fun exploring the city.
Gaelic games:
If you want something that's fantastic fun, let's you learn something new and experience the Irish culture then Experience Gaelic Games is a great alternative hen party idea. You'll be able to play hurling, Gaelic football and handball. You don't need to be super fit to take part, you just need to be up for a laugh. After the session you'll know why Gaelic Games fever sweeps Ireland every summer.
http://www.experiencegaelicgames.com/
Windsurfing, Kayaking and Stand Up Paddling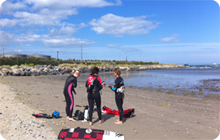 If you want your hen party to be in the water rather than on it then there are some great activities to choose from including windsurfing, kayaking and stand up paddling!  Hen Party Idea:  Take some warm clothes to change in to afterwards, the water may look inviting but it isn't the tropics.
If you're part of a smaller group then Surfdock also offer kite surfing – action packed fun!
http://www.surfdock.ie/home.php
http://www.fingalsailingschool.ie/
http://www.shearwaterseakayaking.ie/welcome_to_shear.php
Greyhound Racing:
Get your hen party trackside and start placing your bets at one of Dublin's two greyhound stadiums for a guaranteed great night out.  A night at the dogs is a fun and sociable event and a great idea if you want to spend some quality time with your hens before hitting the bars and clubs. Hen party idea: Collect a kitty and let everybody place one bet from it to make it a more social event, and any winnings can go in to the drinks fund.
Harold's Cross:
http://www.igb.ie/harolds-cross/top/About-Us/About-Harolds-Cross/
Shelbourne:
http://www.igb.ie/shelbourne-park/
Go Karting: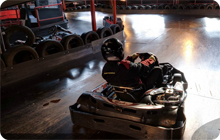 Get set for speed, excitement and adrenaline at Ireland's largest indoor karting centre. At 60,000sq ft of track you'll be able to really sort out who the queen of driving in your hen party is. Hen party idea: Set forfeits for those who do badly or crash out.
http://www.kylemore-karting.com
Party Bus
It doesn't get easier to explain than the Party Bus: yes that's right, it's a bus where you have a party. Take a trip round Dublin's top night spots or just have your own private party – you can even hire your own on board DJ.
http://www.partybus.ie/cube.htm
If you're looking for other options then you can try:
Boogie Bus: http://www.partybus.ie/boogie.htm
Limo Bus: http://www.partybus.ie/limo.htm
Karaoke Bus: http://www.partybus.ie/karaoke.htm
Classy Hen Party Ideas: Activities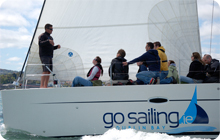 Sailing:
Teamwork is an essential part of sailing so it's a great way to get your hen party to bond and to see Dublin from a completelydifferent point of view. You'll head out in a 54ft yacht with an expert captain to take in the beautiful Irish coast.
Horse Racing:
Very few activities beat the feeling of backing a winner and watching it come in trackside. Dublin has two horse racing tracks and a packed schedule of top class racing so you're sure to find racing around the time you want to go on your hen party. Hen party idea: Betting can be confusing, but share this link with your hen's so they can get a basic understanding before visiting the track – then sit back and watch the money roll in:
http://www.novicepunter.co.uk/Types%20of%20Bet.htm
Leopardstown: http://www.leopardstown.com/Leopardstown/Home/
Naas: www.naasracecourse.com
Guinness Brewery Tour
It would be rude to come to Dublin and not try a drop of the 'black stuff', and where better to sample it than in its very own building, and Ireland's number one tourist attraction. Guinness might not be to everybody in your hen party's taste but you can guarantee the Gravity bar will be. Set in the top of the Guinness storehouse you can enjoy 360 degree panoramic views of Dublin while enjoying a drink and relaxing.
http://www.guinness-storehouse.com/en/Index.aspx
Jameson Distillery Tour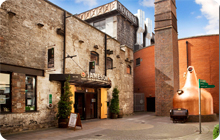 Another of Ireland's top visitor attractions (they do enjoy a drink!) you can get a guided tour of the distilling process and sample one of Ireland's most famous exports.
http://www.tours.jamesonwhiskey.com
Irish Dancing
If you're up a for a laugh then Irish Dancing is a great idea for your hen party. Professional dancers will show you basic moves, and will perform some classic dances in a traditional Irish pub. This is a great way to break the ice on your hen night and get everybody up and dancing before you even hit the town.
http://www.irishdanceparty.com/
Secret Castle of Magic
Step in to the world of magic with two shows that will astonish and amaze your hen party. You'll be treated to a mind and mystery show and a comedy magic show. If you're after ideas for an unusual, alternative hen party event then this is a great option.
http://www.secretcastleofmagic.com/
Spas
A spa day is a great hen do idea if you really want to escape from the hustle and bustle of the city and spend the day catching up with friends. Hen party idea: why not collect a few pounds extra off everybody and buy the bride a treatment, it'll help make her hen party even more memorable.
Buff Day Spa
www.thebuffdayspa.com
French beauty
www.frenchbeauty.ie/
Where to Drink:
Your hen party certainly won't go short of places to grab a drink – Dublin is packed with pubs, and the Temple Bar area is the main attraction for hen parties, with the largest number of pubs and clubs in a compact space. Hen Party Idea: If there's pub and clubs you particularly want to go to it's worth checking the door policy before you get there and you can also get your name on the guest list, avoiding any queues.
Popular pubs and clubs for hen parties:
The Temple Bar: www.thetemplebarpub.com/
Club M: http://www.clubm.ie/
Fitzsimons
Alchemy: www.alchemyclub.ie
Buskers Bar: http://www.buskersbar.com/
The Morgan Bar: www.themorgan.com
Oliver St John Gogarty's: www.gogartys.ie
If you've been on a hen party to Dublin then leave us a comment on where you went drinking so we can add to this article.
Where to Eat
Whether you want to grab a quick snack while moving around Dublin or you want to have sit down meal with your hen party to allow everybody to get to know each other or catch up then there's plenty of choice, but it's always worth phoning ahead to check the restaurants policy on hen nights. Hen Party Idea: If you go for a meal then why not arrange a quiz or game for everybody, it's a good icebreaker and can help get everybody in the party mood.
Below is a range of restaurants – from the cheap and cheerful to the expensive:
101 Talbot: www.101talbot.ie/
Alfies: www.alfies.ie/
Bad Ass Grill
Bar Pintxo
Casa APsta
Il Corvo: www.ilcorvorestaurant.ie/
Il Primo: www.ilprimo.ie/
How to get there:
Unless you're already in Ireland then the easiest way for your hen party to get to Dublin is by plane, but there's also a regular ferry crossing which drops you closer to the city centre.
Plane
There's regular services from the UK mainland to Dublin and it's only a short taxi or bus ride from the airport to the city centre so flying is a good choice for hen parties: Hen Party Idea: The booking code for Dublin airport is DUB, remember this as it'll make finding flights easier.
Ryanair: www.ryanair.com/
Aer Lnigus: www.aerlingus.com/
Aer Arann: www.aerarann.com/
Ferry:
You can catch a ferry from HolyHead, Liverpool and the Isle of Man which will drop your hen party just a couple of minutes from Dublin city centre.
Irish Ferries: www.irishferries.com 
Norfolk Line: www.norfolkline.com
Stena Line: www.stenaline.co.uk
Car:
http://www.theaa.com/route-planner/index.jsp
Help make this article better
Have you been on a stag do to Dublin? If you have any recommendations on where to eat, drink or activities to do on a hen party to Dublin just leave your comments below and we'll do our best to include them.
Stay Safe
Your safety on your hen party is really important to us which is why we've written the Essential Hen Party Safety Guide.