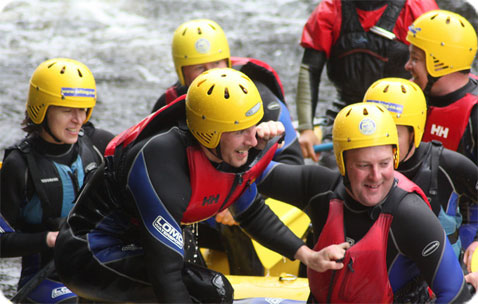 Named by Wanderlust as one of the top 10 cities in the world, and owner of over 13 Best City and Short Break Awards, this city has some really fantastic stag do ideas.
There's a huge range of classic, alternative and unusual stag party activities in Edinburgh and the surrounding area, as well as places to eat, drink and stay to suit any budget making Edinburgh a popular choice.
So if you're looking for ideas for the perfect stag do in Edinburgh read on for inspiration…
Stag Do Ideas: Activities
You may be tempted to spend your whole stag party drinking but it's a good idea to do an activity – it's a great ice breaker and gives people something to remember.
White Water Rafting & More
Try high adrenaline white water rafting and more for an alternative and unforgettable stag do.   Get your mates together and test your skills on the raging rapids, or try canyoning, duckies, bridge swinging and more at Splash.  Special offers and tailored packages for stag parties are available.
Watch a video:
Bubble Football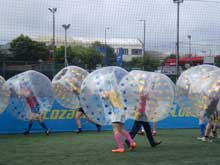 What can be more fun that playing football while inside a giant inflatable ball?  Your legs are free to kick the ball but if you collide with another player it's anybody's guess where you end up – upside down, on your side, rolling helplessly across the pitch!  Bubble Football Zone can tailor your match for your stag party including bash the stag and last man standing.  Great fun!
https://bubblefootballzone.co.uk/about-bubble-football-zone/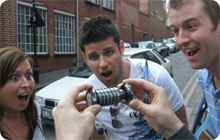 Treasure hunt
See the city and test your team working skills with a variety of organised and self organised treasure hunts, including the Pub Challenge, Code Breaker and Spy Challenge:
Climbing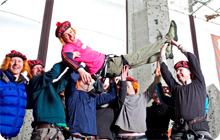 Edinburgh International Climbing Arena offers some great challenges for adventurous stag parties who want to try something a bit more unusual.  Try the Aerial Assault course or abseil down the front of the building like Spiderman. If you want to test yourself on one of the walls then you can try anything from 12m to 25m, in perfect safety.  Stag Party Idea:  For those who really don't have a head for heights there's a café on sight or a spa if people need to recharge their batteries.
Paintballing and Go-Karting
Yes, both classic stag party activities in one place, but sadly not both at the same time.  You can hit the tarmac on a 930 metre outdoor or 300 metre indoor race track, or destroy your mates on the 60, 000 square foot paintball arena.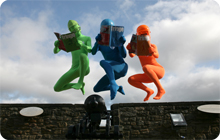 Edinburgh Festival Fringe
Taking place in August over three weeks the Edinburgh Festival Fringe is the largest arts festival in the world.  On one of the many stages you can see everybody from the famous to the obscure in everything from comedy to music, musical, dance and even the occasional opera.  Definitely an alternative stag party idea.
Arthur's Seat
No it's not a rent boy, but Edinburgh's tallest extinct volcano.  It's a bracing walk to the top so good for blowing away the cobwebs after a stag night.
Where to drink:
As with all bars, clubs and restaurants it's always worth calling ahead to check on the door policy to make sure you'll get in.  It also doesn't hurt to get your name on the guest list.
Grassmarket
If you're heading to Edinburgh for a stag do then be sure to drop by the Grassmarket area for drinks, especially in the summer where you can grab a seat in the sun outside the many pubs.
Bars to try:
More info at: http://www.grassmarket.net/
George Street
If you want your stag party to be a bit more sophisticated then head to George Street (parallel to Princess Street) for a more high brow experience.  The dress code and door policy reflects the more sophisticated culture so be sure to be smart and be careful of big groups.  Check the links below – you'll soon get a flavour of whether George Street is for you or not.
Tigerlily: www.tigerlilyedinburgh.co.uk
The Living Room: http://www.thelivingroom.co.uk/venues/edinburgh/
Le Monde Hotel: http://www.lemondehotel.co.uk/drink/
All Bar One: http://www.allbarone.co.uk/allbaronegeorgestreetedinburgh/
Find out more about George Street: http://www.edinburghgeorgestreet.co.uk/
There's loads of other areas to drink in Edinburgh including Cowgate, Leith, and the Old Town.
Find out more about bars and restaurants in Edinburgh: http://www.edinburgh.org/ and http://guide.visitscotland.com or check out this Youtube video:

Casinos:
If you're looking to spend a couple of hours having some fun at the tables on your stag do then there's a few choices in Edinburgh:
Circus Casino: http://www.gentingcasinos.co.uk/circus/casino/5/edinburgh.html
Maxims Casino: http://www.gentingcasinos.co.uk/maxims/casino/16/edinburgh.html
Gala Maybury Casino: http://www.galacasino.co.uk/gc2/local-casinos/casino-finder/scotland/edinburgh.html
Stanley Cascades Casino (Leith)
How to get there
Being a major city Edinburgh is easy to get to in just about any way possible.  Here's a few of our recommended sites:
Rail: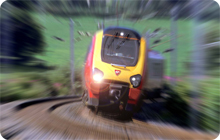 Trainline: www.thetrainline.com
Plane
(Edinburgh Airport is about 25 minutes from the city centre by bus.   It's booking code is EDI – remember this if you're lookingfor flights, it makes it much easier)
British Airways: www.britishairways.com/edinburgh
Easyjet:  www.easyjet.com
Car:
http://www.theaa.com/route-planner/index.jsp
Coach:
National Express:  www.nationalexpress.com
Help make this article better
Have you been on a stag do to Edinburgh?  If you have any recommendations on where to eat, drink or classic, alternative or unusual activities to do on a stag party to Edinburgh just leave your comments below and we'll do our best to include them.
Stag Party Safety
Edinburgh is a friendly city and we're sure you'll have a great time on your stag party but make sure you stay safe by reading our Essential Guide to Stag Party Safety.
If you're thinking about Edinburgh for your stag party you may also be interested in: Glasgow or Newcastle.