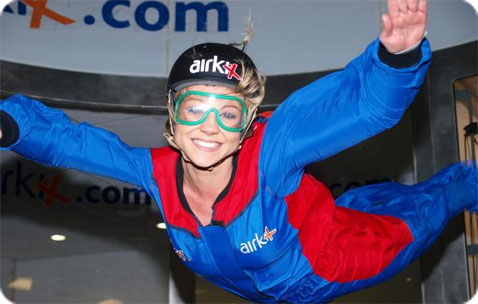 An internationally renowned city for its atmosphere, attractions, and of course nightlife, Manchester has some fantastic hen party ideas for you to try.  Mancunians are great to party with and make visitors feel welcome in their city.  During your hen party you can take part in some great activities from classics such as paintballing to unusual and alternative activities including indoor skydiving, and classy hen party ideas such as a trip to the world famous shopping destination the Trafford Centre
Hen Party Ideas: Activities
There's a fantastic range of activities in Manchester for your hen party so it's a good idea to plan ahead, but whatever your budget or tastes there'll be something that grabs your fancy.
The Trafford Centre
One of the largest shopping centres in Europe it's a shopping heaven with over 200 stores, as well as 60 restaurants and cafes for when your feet hurt and you need to recharge your batteries.  Hen Party Idea: Why not put some money in a kitty for the hen to buy herself something nice, perhaps for her wedding?
Airkix Indoor Skydiving
All the fun of skydiving without the extreme heights (and risk of death)!  The giant wind tunnel keeps you suspended just feet above the ground and  each 'flight' lasts twice as long as a skydive.  You don't need to be particularly fit and any age can participate so it's guaranteed to be a great laugh for all of your group.   Hen Party Idea:  You'll get a free DVD of your flight if there's more than seven of you.  This is definitely an alternative hen party idea!
http://www.airkix.com/manchester/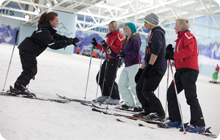 Chill Factore
60 metres of real snow await your hen party whether you want to try skiing, snowboarding, luge or even tubing.  Wrap up warm and get some expert guidance before taking to the slopes at your own pace.
Belly Dancing
No matter what your dancing ability or age as long as you're are up for a good laugh with your friends then belly dancing is for you.  These 1 or 2 hour sessions will give you the basics and get you shimmying to the music wearing jingly scarves, while the bride will take centre stage wearing beautiful Isis Wings – a great photo opportunity.
http://isisdance.webs.com/henweddings.htm
MEN Arena
Fancy seeing some of the biggest bands around at the moment?  Join up to 21,000 other fans at one of the UK's top venues for live gigs.  There's an ever changing line up of artists so it's well worth checking out if you're planning a hen party to Manchester.
Treasure Hunt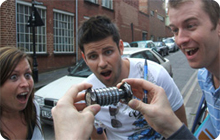 Choose a fully guided or self managed treasure hunt to see Manchester in a unique and fun way.  A Hunt the Goose treasure hunt will get your hens moving, exploring and having a great time together!
Paintballing
Paintballing has long been a favourite with hen parties as you'll always get an afternoon of adventure and action.  Set in 60 acres of woodland you'll need plenty of teamwork to come out on top!  Hen Party Idea:  If your conscience will let you then dress your bride in something very bright – she'll be a sitting target:
Comedy Clubs:
Get your hen night in Manchester off to a great start by visiting one of its two comedy clubs.  There's a regularly changing line up of top class comedians, and you can even organise a meal while you're there – that's a top night and your evening meal taken care of.
Hen Party Idea:  Be sure to book a table at the front, if you dare!
Crafty Hen
Garters, tiaras, table decorations, cocktail rings and nipple tassels  are just a few of the things you could get your hens making during your party.  A Crafty Hen workshop is a great laugh and at the end you'll have a lasting memento of your hen party.
http://www.thecraftyhen.co.uk/
02 Apollo Manchester:
If the MEN isn't your music scene then head to the 02 to catch some of the hottest bands around from the UK and overseas.  You may even be able to catch a comedy gig.  Check out the latest gigs:
http://www.o2apollomanchester.co.uk/
Go Karting: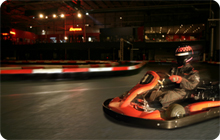 High speed, adrenaline fuelled fun awaits as you hit the track with your girls to see who comes out as the top driver.  At Daytona you'll have use of fantastic indoor facilities so your event won't be rained off, with exclusive use of the track for your booked time as well as a great bar over looking the circuit for post race drinks.
http://www.daytona.co.uk/venues/manchester/
http://karting-nation.co.uk/sites/index.asp?activity=Karting&at=Manchester,-Lancashire&site=1594&activityID=2 (Lancashire)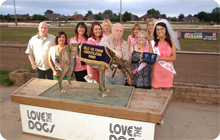 Belle Vue Greyhound Stadium
The dogs is a great way to spend an evening and get your hens bonding, and there are special hen party packages available, making organising a hen do so much easier!
Where to Drink:
You won't have to look far to find a bar in Manchester for your hen party to hit – there's over 500 in the city centre alone.  Stop by one of the trendy wine bars for a glass of vino or cocktail, or hit the cheesy pubs playing the latest tunes.  If your hen party wants to try somewhere different then book in at the Sky Bar on the 23rd floor of the Hilton on Deansgate, or at the Mint Hotel for panoramic views of the city.
Here's a couple of bars that may be worth a visit:
They're that keen on drinking in Manchester it has its own site:
If your hen party is looking to hit a club later in the night then here's the top five recommended by Manchester Tourist Board (no particular order):
Take a look at the full article:
http://www.visitmanchester.com/#/articles/top-5s/top-5-nightclubs.aspx
How to get there:
Manchester is incredibly easy to get to – it's got great road connections and an international airport.
Air:
Over 100 airlines regularly fly in to Manchester airport from all over the world so where ever your hens are travelling from they'll be able to get to Manchester.  The booking code for Manchester Airport is MAN – remember this if you're looking at flights, it'll make booking much easier.
A couple of useful links for hen parties flying to Manchester:
It's just 15 minutes to Manchester city centre on the train.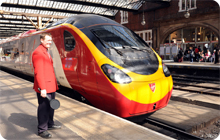 Train:
The main rail station in Manchester is Piccadilly, and it's only a couple of hours from London.  You may also want to look at Deansgate, Oxford Road or Victoria depending on where you're staying.
Road:
If you're heading to Manchester then take a look at this handy map Manchester Council have put together of city centre car parks.  Be sure to share it with the rest of your hen party.
You may also need the AA Route Planner:
http://www.theaa.com/route-planner/index.jsp
Where to stay
Being a vibrant tourist attraction there's a wide range of  accommodation in the city centre and further afield, from the basic to the lavish.  To get an idea of the range of quality and prices we'd recommend:
Help make this article better:
We want to hear your views on Manchester!  Where is good for hen parties to eat and drink and what are the classic, alternative and unusual hen party activities we are missing.  Post your comments below and we'll do our best to include them.
If you like the look of Manchester then you may also want to take a look at; Liverpool, York, or Newcastle.
Stay Safe
Your safety is very important to us so we wrote the essential guide to hen party safety to make sure your hen party is memorable and safe.