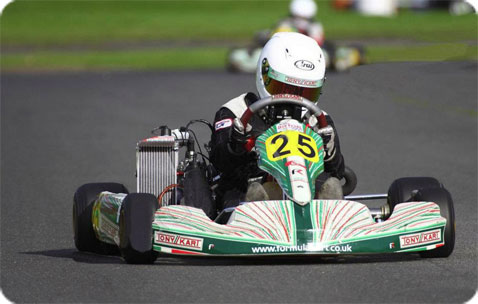 One of Europe's most popular seaside resorts and the entertainment capital of Britain, Blackpool is packed with stag do ideas.  There's everything from the stag party classics such as go karting and paintballing, to Britain's single biggest tourist attraction at Blackpool Pleasure Beach to alternative and unusual stag party activities such as helicopter flights, racing days and skydiving.
We've put together the definitive collection of stag do ideas for Blackpool covering activities, food, drink, travel and accommodation.  Here's what you'll find in this article to help you organise the stag do that everybody remembers…
Classic stag do ideas
Go Karting
Multi Activity Centres
Treasure Hunt
Laser Battle & Paintball
Comedy Club
Strip Clubs
Casino
Stanley Park Golf Course
Alternative stag do ideas
Pleasure Beach
Bike Hire
Climbing
Helicopter Flight
Racing Days
Sky Diving
Hot Air Balloon Ride
Funny Girls
Blackpool Stag Do Ideas: Activities
Go Karting
A classic stag party idea, go karting is great for all ages and abilities, and you can introduce a great bit of competition in to your stag party to get everybody really geared up for it.
http://www.three-sisters.co.uk/
Multi Activity Centres
If one activity just isn't enough on your stag party then you can try your hand at a few different activities here:
http://www.sudden-impact.co.uk/
Treasure Hunt
See the sights of Blackpool during a fun and competitive treasure hunt with Hunt the Goose.   You can take a guided or easy to manage self guided tour to get you looking at Blackpool in a new way.
http://www.huntthegoose.co.uk/Locations/View/blackpool.aspx
Laser Battle & Paintball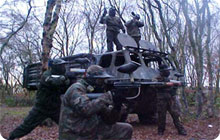 Paintball is one of the most popular stag party activities in the UK and there are a few places to choose from in Blackpool.  If you want to try something a little bit different then give Laser Tag a go –it uses cutting edge technology to help you pick off your opponents.
http://www.sudden-impact.co.uk/
http://www.frontlinepaintball.co.uk/ (Preston)
Comedy Club
The Comedy Station Comedy Club is Blackpool's first ever comedy club.  Established in 2002, the venue has gone from strength to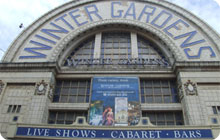 strength attracting headline and alternative acts such as Jason Manford (8 out of 10 cats, The One Show), Mick Miller (Comedy Legend!), Justin Moorhouse (Phoenix Nights) and Charlie Chuck. Hosted by Blackpool's own local Celebrity Ryan Gleeson (Richard Hammond's 5 O'Clock Show, Channel 4's So You Think You're Funny), the Comedy Station Comedy Club is situated right in the centre of Blackpool at the World famous Winter Gardens and is the perfect start to your stag night out!
http://blackpoolcomedyclub.com/
Strip Clubs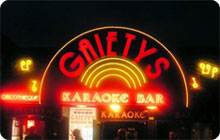 There's no shortage of strip clubs in Blackpool for you to choose from.  At Gaiety's and Heaven there is a karaoke bar next door that's popular with hen parties – you may end up with some great company.
http://www.gaietysandheaven.co.uk/
http://www.wickedlapdancing.com/
http://www.rouge-online.co.uk/ (Burlesque)
Casino
Open 24 hours a day the casino doesn't need to be the last place you head on your stag party, you can drop in during the day for a bite to eat and try your luck on the tables before you perhaps have a bit too much to drink.
http://www.grosvenorcasinos.com/local-casinos/blackpool
Stanley Park Golf Course
If you fancy getting 18 holes in during your stag party then you can drop by Stanley Park Golf Course.
http://www.blackpoolparkgc.co.uk/
Blackpool alternative stag do ideas
Pleasure Beach
The UK's largest tourist attraction with over 125 rides and attractions Blackpool Pleasure Beach attracts millions of visitors a year and is a popular stag party destination.
http://www.blackpoolpleasurebeach.com/
Here's a short 'point of view' video for the Pepsi Max Big One
Bike Hire
Biking is a great way to see Blackpool and the surrounding coast and countryside and this scheme allows you to hire bikes for as long as you need.
http://www.hourbike.com/mysitecaddy/site3/locukblackpool.htm
Climbing
The unique structure and location of the Blackpool Climbing Towers will help make this a really memorable experience for your group.  There are routes ranging from easy to harder over hanging climbs to suit every skill and fitness level in your stag party.
http://www.sportblackpool.co.uk/page.aspx?id=110
Helicopter Flight
A bit further outside Blackpool, about an hour in the car, but well worth the journey.  Your 30 minute flight will take in some of the most amazing and dramatic scenery in Britain including Helvellyn, Skiddaw and Blencathra.  This alternative stag party activity will make your stag party the one that everybody remembers.
Racing Days
Hit the track to burn some rubber and sort the men from the boys on your stag party with a thrilling track day, racing some impressive supercars.
http://www.racing-school.co.uk/index.asp
Sky Diving
For the real manly stag parties!  This is a great option for an alternative and unusual stag weekend and will certainly ensure your party is the weekend that goes down in legend.  You can always take a leaf out of Stacey Reed's book and do your stag party skydive for charity
http://www.whatajump.co.uk/en/skydiving-parachute-centres/blackpool
http://www.skylineparachuting.co.uk/
Hot Air Balloon Ride
Another great idea for an alternative stag weekend you can hit the heights reaching up to 5,000 feet to take in some stunning views.
http://www.goballooning.co.uk/
Funny Girls
Entertaining and wowing audiences for over 16 years Funny Girls is a multi-award winning stage show and a great laugh.
http://www.funnygirlsonline.co.uk/
Drink
You'll never be short of places to go for a drink in Blackpool on your stag party – here's a few of our ideas.  There's everything from superclubs to wine bars and Latin American inspired clubs, but whatever you choose to do please remember to drink responsibly.
The Flagship: http://www.theflagshipbar.com/
Tower Lounge: http://www.towerlounge.co.uk/TOWER_LOUNGE/Index.html
Yates': http://www.weareyates.co.uk/blackpool
Walkabout: http://www.walkabout.eu.com/
Che Bar: http://www.blackpool.chebar.co.uk/
Revolution: http://www.revolution-bars.co.uk/blackpool
Roxys: http://www.roxysonline.co.uk/
Blackpool Bierkeller: http://www.blackpoolbierkeller.com/
Bar 19 – sorry no link
Clubs
Club Sanuk http://www.clubsanuk.com/index-fs.html
Flares http://www.barsandvenues.co.uk/
Rumours http://www.rumoursandhush.co.uk/
Syndicate http://blackpool.thesyndicate.com/
Don't forget Funny Girls, one of the best stag shows around, covered in our Activities section above.
Travel
Road
In Blackpool you almost get a motorway to the beach making it an incredibly accessible destination for stag parties – the M55 runs right through the centre of Blackpool:
http://www.theaa.com/route-planner/index.jsp
Train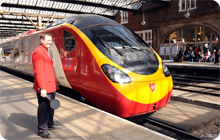 You can get an onward train from Preston or Manchester which are connected to almost every major station in the UK:
http://www.nationalrail.co.uk/
Air
There are regular domestic and European flights which land at Blackpool International, just two miles from Blackpool centre.  If you need a more international flight then your nearest airport is Manchester:
http://www.manchesterairport.co.uk/manweb.nsf
Help make this article better!
Have we missed an essential activity or an alternative or unusual stag weekend idea in Blackpool?  Let us know and we'll do our best to include it!
Other Cities
If you're looking to a stag weekend in northern England then you may want to check our other guides:  Liverpool, Manchester, York and Newcastle.
Stag Party Safety
We want you to have the perfect stag party and that means staying safe when you visit Blackpool.  Read our Essential Guide to Stag Party Safety to help everything go smoothly.