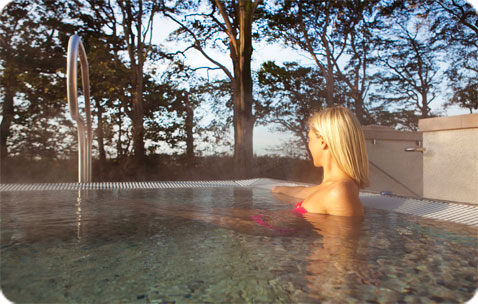 Brash, loud and unashamedly unique, Blackpool is a legendary party city.
With the truly huge Blackpool Pleasure Beach and a whole host of other activities, including some great alternative and unusual hen party ideas you can be sure to send your bride to her wedding safe in the knowledge she had a truly memorable hen party.
Read on to plan your perfect hen party in Blackpool…
Sophisticated & classy hen party ideas
Spa
Helicopter Flight
Racing Day
Crafty Hen Workshops
Skydiving
Hot Air Balloon Ride
Casino
Naked Butlers
Classic Hen Party Ideas
Pleasure Beach
Go-Karting
Multi-Activity Centre
Treasure Hunt
Laser Battle & Paintball
Bike Hire
Climbing
Karaoke Bar
Comedy Club
Funny Girls
Blackpool Hen Party Activity Ideas
Spa
Get your hens together for a chilled out day in the spa for a real catch up, while being pampered and de-stressed:
http://www.village-hotels.co.uk/hotels/blackpool-herons-reach/welcome
http://www.ribbyhall.co.uk/spa-hotel/
Special offer: Ribby Hall VIP DAY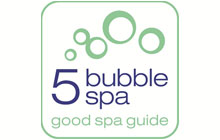 Enjoy a very special day for you and six hens to enjoy.  The Ribby Hall Penthouse suite is at your disposal for the day and after arriving you can enjoy a two hour aqua thermal experience.  You can then enjoy bucksfizz and lunch in your room while catching some movies, reading a magazine or just catching up while the Ribby Hall therapists perform manicures and pedicures in your suite, or in The Spa.  A champagne afternoon tea will then be served.  You are welcome to have exclusive use of the Penthouse Suite until 5pm. Cost: just £130-£150 each dependent on numbers.
Also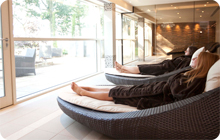 Spa Breaks Introductory Offer
From £99 per person per night
Includes 2-course dinner, overnight stay, breakfast and entrance to the Aqua Thermal Spa
T&Cs: offer applies Sun-Thurs based on two sharing a standard room.  Subject to availability.
Helicopter Flight
About an hour away from Blackpool but well worth the journey as you'll take in some of the classic lake district scenery including Helvellyn, Skiddaw and Blencathra on this fantastic alternative hen party activity.
Racing Days
If go karting is just a bit too tame for your hen party then hit the track in some of the most powerful sports cars around with an exhilarating track day.
http://www.racing-school.co.uk/index.asp
Crafty Hen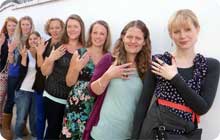 Crafty Hen workshops are a great way to help your hens bond while doing a fun activity such as sewing or knitting.  The great thing about it is that you'll get something to take away and use during the wedding such as fascinators, wedding decorations or even some customised underwear:
http://www.thecraftyhen.co.uk/
Sky diving
Ok, it's a real alternative and unusual hen party idea, but it really would make the hen party you organised THE one that everybody remembers.  Don't think anybody would do this on a hen party?  Check out our article on Stacey Reed who did it for charity on her hen do.
http://www.whatajump.co.uk/en/skydiving-parachute-centres/blackpool
http://www.skylineparachuting.co.uk/
Hot Air Balloon Ride
Get your hens really flying with a hot air balloon ride up to 5,000ft.  You'll get stunning views and a some great memories of your hen party.
http://www.goballooning.co.uk/
Casino
Definitely not just for men the casino is a great way to get your hens bonding during your party.  You can grab a bite to eat, take a lesson in gambling and then hit the tables to try your luck in all the classic games.
http://www.grosvenorcasinos.com/local-casinos/blackpool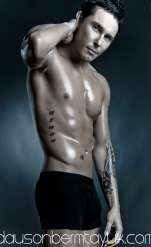 Naked butlers
Want to be waited on hand and foot during your hen party?  Want your waiter to be semi naked?  Then you're in luck – here are the details of the premier naked butlers and strippers company.
Pleasure Beach
Home to the Pepsi Max, and the UK's largest tourist attraction, Blackpool Pleasure Beach is the centre piece of what Blackpool has to offer.  Call in for a few rides on the teacups or plan a whole day taking in 125 rides, the choice is yours.
http://www.blackpoolpleasurebeach.com/
If you do fancy the Pepsi Max Big One here's a short video to get you started:
Go Karting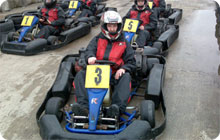 Increasingly popular with hen parties go karting is an exciting activity choice in Blackpool.  There are a variety of race formats to choose from to test the skills of your hens.
http://www.three-sisters.co.uk/
Multi activity centres
If you want to give a few different activities a go then this is a great choice.  There's something to suit every taste so you're guaranteed to keep your hen party happy.
http://www.sudden-impact.co.uk/
Treasure Hunt
Join a Blackpool treasure hunt with Hunt The Goose and discover the real Blackpool.  A hen party treasure hunt is a great way to see the sights and get your hens working together.
http://www.huntthegoose.co.uk/Locations/View/blackpool.aspx
Laser Battle & Paintball
Blackpool has a number of paintballing locations to choose from if you want to blast your hens with high powered paintballs.  If that sounds too painful then give Lasertag a go – the weapons fire lasers instead of paintballs so nobody gets hurt, but you can still prove who is the crack shot.  Hen Party Idea:  Dress your hen up in something bright so she's easy to spot.
http://www.sudden-impact.co.uk/
http://www.frontlinepaintball.co.uk/ (Preston)
Bike Hire
Get your hen party using some pedal power to see Blackpool by hiring a bike for a few hours.  It's a great way to see the sights and you can set a leisurely pace if anybody needs to work off a hangover.  The great advantage of these bikes is you can hire them for as long as you need rather than for a minimum time.
http://www.hourbike.com/mysitecaddy/site3/locukblackpool.htm
Climbing
If you fancy some adrenaline during your hen party the Blackpool Climbing Towers is the perfect place to visit.  There are varying degrees of difficulty on the towers and you'll be under expert guidance all the time to make sure your hen party are safe.
http://www.sportblackpool.co.uk/page.aspx?id=110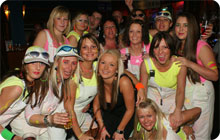 Karaoke Bar
The ultimate girly night out – belting out the hits on stage with your best friends.  Half this venue is a karaoke bar and the other is a strip club, but don't let that put you off, as long as you get the right entrance you and your hens will have an absolute blast.
http://www.gaietysandheaven.co.uk/
Comedy club
Located in the very centre of Blackpool the Comedy Station Comedy Club is Blackpool's original comedy club and has played host to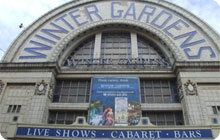 some top acts including Jason Manford.  The comedy club is a great way to sort out your evening entertainment and keep everybody together at the same time.  Be sure to let the compere know that you're on a hen party so the acts can have some fun with the bride.
http://blackpoolcomedyclub.com/
Funny Girls
As legendary as Blackpool itself Funny Girls has been dazzling audiences for years and is a sure fire hit on your hen party.
http://www.funnygirlsonline.co.uk/
Drink
There's certainly no shortage of bars in Blackpool from classic pubs, to giant nightclubs, wine bars and everything in between, it's really a question of taste.
Please remember to drink responsibly on your hen party.
Here's a few of our suggestions:
The Flagship: http://www.theflagshipbar.com/
Tower Lounge: http://www.towerlounge.co.uk/TOWER_LOUNGE/Index.html
Yates': http://www.weareyates.co.uk/blackpool
Walkabout: http://www.walkabout.eu.com/
Che Bar: http://www.blackpool.chebar.co.uk/
Revolution: http://www.revolution-bars.co.uk/blackpool
Roxys: http://www.roxysonline.co.uk/
Blackpool Bierkeller: http://www.blackpoolbierkeller.com/
Bar 19 – sorry no link
Clubs
Club Sanuk: http://www.clubsanuk.com/index-fs.html
Flares: http://www.barsandvenues.co.uk/
Rumours: http://www.rumoursandhush.co.uk/
Syndicate: http://blackpool.thesyndicate.com/
Don't forget Funny Girls, the classic show described in our Activities section above.
Travel
Road
With a motorway running right in to the centre of town Blackpool is easily accessibly by road from any direction.
http://www.theaa.com/route-planner/index.jsp
Train
Not a fantastic choice for hen parties to be honest.  You'll need to get to Manchester or Preston first and then get an onward train from there.
http://www.nationalrail.co.uk/
Air
We didn't know Blackpool had an airport either but Blackpool International has regular domestic and European flights.  If you can't fly direct to Blackpool you could fly to Manchester and then catch the train.
http://www.blackpoolinternational.com/
http://www.manchesterairport.co.uk/manweb.nsf
Accommodation
There's every type of accommodation in Blackpool for hen parties, from cheap and cheerful B&Bs to larger hotels, it's really a question of budget which is why we recommend taking a look at Laterooms:
Help make this article better!
Have we missed an essential activity or an alternative hen weekend idea in Blackpool?  Let us know and we'll do our best to include it!
Other Cities
If you're looking at a hen weekend in Northern England then you may want to check our other guides:  Liverpool, Manchester, York and Newcastle.
Staying safe
Wherever you go on your hen party be sure to take a look at our Essential Guide to Hen Night Safety. It's packed with essential advice to keep all your hens safe and well during your party.