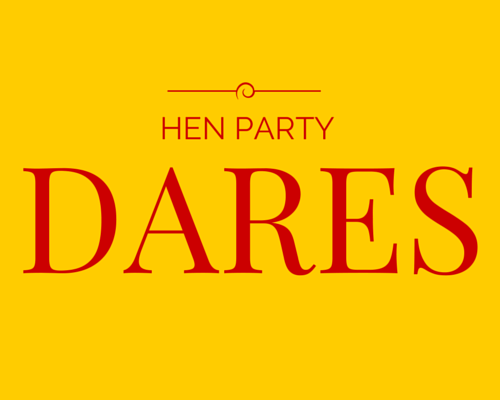 THE classic hen party game
Dares are one of the all time classic hen party games and there are hundreds of variations, this is our version which we think is fantastic.
We think the reason that this hen party game works well is that each person can participate as much as they want and as their confidence builds and inhibitions lower as the alcohol flows they start to take on the riskier and funnier dares.
How to play hen party dares
Equipment
Nothing special but we have created a printer friendly hen party dare sheet for you below
One dare does require handcuffs
This hen party game can be player by your hens individually but is usually more fun if they are split in to teams. You can give each of your girls a hen party dares sheet or just give them a dare at a time throughout the night.
 
There are two ways if playing the game: each date is worth one point and the team with the most dares completed wins a, or we've given a points value to each dare so your hens can be strategic with which ones they try and achieve – obviously the more points each dare is worth the more risky or embarrassing they are.
Hen Party Dare Game List
1 POINT DARES
For each drink a guy buys you
Find some phallic shaped food-courgette, banana etc
Do chilli shots – one point for each
Photo bomb a picture
2 POINT DARES
Find a ginger man and check if he is ginger all over
Get a pair of boxer shorts
Get your picture taken with 3 bouncers
Do a stupid dance to the WHOLE of the next song
Talk to a stranger like you've known them for years
Convince somebody you are related to a celebrity
Flash your bra
5 POINT DARES
For each mans phone number you get
Each woman's phone number you get

Handcuff yourself to a stranger

Get a piggy back around the pub

Convince somebody you ARE a celebrity

Flash your knickers

Hold a conversation with someone in a foreign accent

Get a man to photograph your: (You write the body part)
Bonus Game
As a bonus to our hen party dares game we've also given you an extra game – The Photo Game.
It's incredibly simple -get your photo taken with as many of the below as possible!
Bald man
Man with a wedding ring on
Bald man
Ginger man
Man with a hat
Man with tattoos
Police officer
Fireman
Paramedic
Barman
Stag party in fancy dress
One point for each and a bonus point each time you get more than one thing in a photo.
PRINTER FRIENDLY HEN PARTY DARE LIST