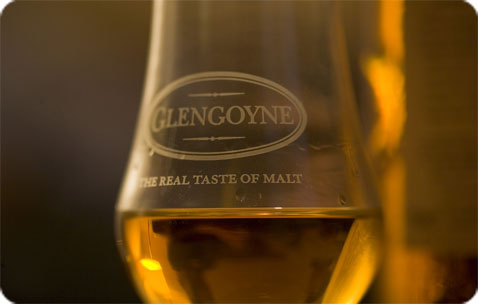 Winner of the UK's City of Architecture and Design in 1999 Glasgow is packed with style, great stag do ideas and a sense of fun. It's a great choice for stag parties as it has a huge range of activities and places to eat and drink.
Here's what activities you'll find in this article…
Classic Stag Do Ideas:
Go Karting
Paintballing
Treasure Hunt
Clay Pigeon Shooting
Alternative Stag Do Ideas:
Canyoning
White Water Rafting
Bubble Football
Bungee Jumping
Powerboating
Distillery
Stag Do Ideas: Activities:
Go karting
An ever popular activity for stag do's, it's guaranteed to get everybody talking.  Stag Party Idea:  Indoor karting isn't affected by the weather so if you're going out of season or want an activity that isn't affected by the weather then this is a good choice:
Paintball
Capture the flag, destroy the radar station, charge of the light brigade and shoot the captain are just some of the games available if you have a violent streak on your Glasgow stag do:
http://www.absolutpaintball.co.uk/
http://www.bedlampaintball.co.uk/paintball/glasgow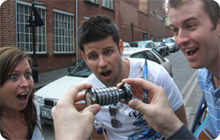 Treasure Hunt
Get your stag party on the move with a treasure hunt form the UK's leading provider.  You can choose a variety of hunt themes including spy catcher and code breaker to get your stags competing against each other.
http://www.huntthegoose.co.uk/
Clay Pigeon Shooting
Can you trust your stag party with real guns? If so then clay pigeon shooting is a great way to spend an afternoon.  Stag Party Idea: Why not make things interesting and get some friendly wagers going or set dares for the losers:
http://www.lomondshooting.co.uk/stag.htm
http://thebigshoot.co.uk/en/venues/glasgow/oTown-15345/
Alternative Stag Do Ideas
Canyoning
Slide, scramble and swim the white water of Bruar Canyon with ropes and harnesses in this action packed activity:
http://www.naelimits.co.uk/canyoning.cfm
White water rafting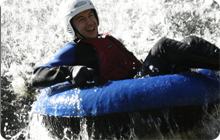 Heart pounding adrenaline action is guaranteed on some of Scotland's best rivers and is available to all levels of experience in this great alternative stag party idea.  Your stag party just need to be brave enough to give it a go:
http://www.naelimits.co.uk/white-water-rafting.cfm
http://www.wilderness4adventure.co.uk
Stag Party Idea:  For white water rafting and canyoning be sure to take something warm to change in to – you will be in a river in Scotland after all.
Bubble Football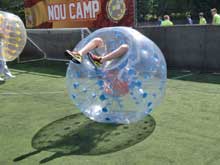 This is quickly becoming a classic stag party activity and Bubble football Zone can tailor your game to your stag party with games such as bash the stag and last man standing.  Quite simply it's a game of football while wearing a giant inflatable bubble, meaning you can kick the ball but are protected from had knocks – a great laugh!
https://bubblefootballzone.co.uk/about-bubble-football-zone/
Bungee jumping
Everybody knows what it is, but most don't know you can hurl yourself off a 120ft bridge in Scotland as part of your stag party.  Definitely one of the more unusual activity choices!
http://www.naelimits.co.uk/bungee-junping.cfm

Powerboating
Jump on board at Glasgow harbour to take your stag party on a blast along the Clyde in these powerful boats.  Trips last from 1 – 5 hours and can include a stop off for a meal or drinks – guaranteed to blow away the cobwebs and hangovers.
Distillery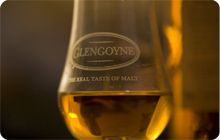 Take a tour of Glengoyne's distillery, outside Glasgow, and sample some of their fine Scottish Whisky set against the stunning backdrop of Scotland's beautiful countryside.  Stag Party Idea:  you'll be sampling some fine Scottish Whisky so please don't get in the car and drive afterwards – book a minibus to get you there and back.
Where to drink:
There's three main areas to consider in Glasgow for your stag party (although there are others, depending on your taste and budget)
West End
Concentrated around Byres Road and Ashton Lane you'll find a real mix of pubs and people so this is one of the liveliest parts of Glasgow.  Notable pubs you might want to try on your stag party include:
Merchant City
The scene of much regeneration this area has a wide range of pubs and restaurants  – a great place when the sun shines.  Worth visiting are:
City Centre
Here's where you'll find most of the mega pubs and nightclubs, including on Sauchiehall St and inside Princes Square entertainment complex.  Here's a couple of places you may want to visit:
Useful websites if you're visiting Glasgow:
http://eatscotland.visitscotland.com
Don't forget to let us know how you got on and where else you would recommend – it's quick and simple to leave comments, just scroll to the bottom of the page.
Where to Eat:
Here's a good website for picking somewhere to eat:
http://www.seeglasgow.com/seeglasgow/wining–dining
We've also had good reports from Sapporo, a Japanese restaurant that offer a variety of party packages for groups:
http://www.sapporo.co.uk/groups/
How to get there
Glasgow is on the west coast of Scotland and is easily accessible by all major forms of transport.
Here's our pick of the best sites for getting there.
Rail:
Trainline: www.thetrainline.com
Plane
The booking code for Glasgow Airport is GLA  – remember this if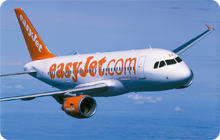 you're looking for flights, it makes it much easier.  Glasgow Airport is about 25 minutes from the city centre by the number 500 shuttle bus – handy to know!
Easyjet:  www.easyjet.com
British Airways: www.britishairways.com
Car:
http://www.theaa.com/route-planner/index.jsp
Coach:
National Express:  www.nationalexpress.com
Help make this article better
Have you been on a stag do to Glasgow?  If you have any recommendations on where to eat, drink or activities to do on a stag party to Glasgow just leave your comments below and we'll do our best to include them.
If you're thinking of Glasgow for your stag party then you might also consider: Edinburgh
Stag Party Safety
Stay safe on your stag party with our Essential Guide to Stag Party Safety.