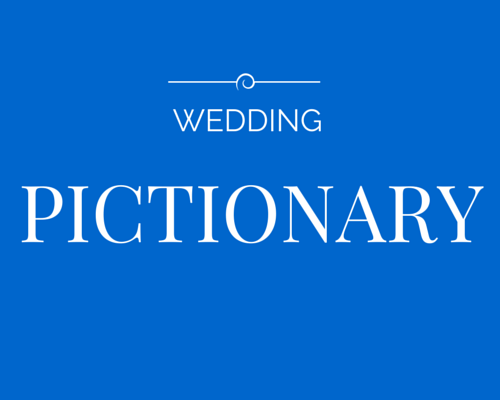 Wedding Words – Pictionary
We all know Pictionary, the classic word game where teams compete to guess what word their team member is drawing, right?
Well we're proud to present our wedding version of Pictionary – with 20 wedding Pictionary words. It's exactly the same as the game you know and love but all the pictionary words are wedding related making this a great hen party game.
To help make it even easier we've even created a printable, downloadable Pictionary word sheet so you can look like the most organised chief bridesmaid ever by just whipping this out when you're ready to play!
If you're looking for other hen party ideas then don't forget to look at our full range of hen party game ideas.
Or if you want a version of Pictionary that's a little more 'spicy' then check out our version of 'Rude Pictionary'.
Cost: 

Embarrassment: 

How to play wedding Pictionary.
Equipment
Paper – if you are playing in small teams a few pads of A3 or even A4 paper will do
Marker pens/pencils
Blu tack or sellotape if you have large sheets of paper
A mobile or watch to keep the time.
Split your hens in to two or more equal sized groups with each group having nominated a person who draws first.
Give each drawer a pile of cards with the words below on (it's easier to print out our sheet and cut them up).
Start the timer and each drawer has to try and draw the Pictionary word that is on their card for their team to guess. Words can not be written or spoken and players can't use noises either, they can only draw pictures to help their team guess.
A good length of time for each round is a minute.
After each round the person who is drawing changes and play continues until a set number of points are reached, rounds are completed when all the cards are used up or a team reaches a set number of points
Hen Party Wedding Pictionary Words
Vicar
Groom
Garter
Speech
Aisle
Toast
Best Man
First Dance
Champagne
Garter
Wedding Dress
Confetti
Bouquet
Rings
Chief Bridesmaid
Photographer
Cake
Honeymoon
Wedding Night
Vows
 Downloadable Wedding Pictionary Words:
Click to open a larger version for printing