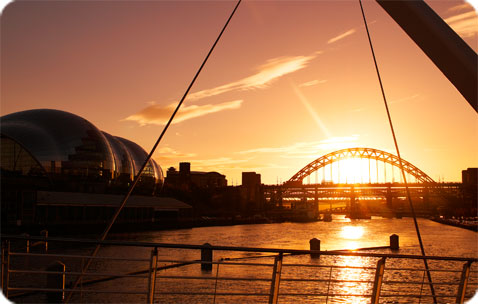 Newcastle's reputation as a party city is already legendary but the city has many more stag do ideas to offer than just its pubs and clubs.
Over recent years Newcastle has been regenerated with a particular focus on the quayside area, with restaurants and bars overlooking the iconic bridges, Baltic modern art gallery and Sage music venue.
You'll often hear the area referred to as Newcastle and Gateshead – the city of Gateshead which sits just over the Tyne bridge (or one of the many other bridges!) is being regenerated too.
If you're on the Gateshead side there isn't much to do once you're off the Quayside but you'll be able to find accommodation here if Newcastle is full and it's only a couple of minutes by taxi or on the Metro.
Alternative Stag Do Ideas:
Adventure Days
Beer Tasting
Party River Cruise
Surfing & Stand Up Paddling
Guided Walk
EAT! Festival
Amsterdam Mini Cruise
Evolution Festival
Classic Stag Do Ideas:
Horse Racing
Football
Rugby
Treasure Hunt
Hyena Comedy Club
Go-Ape
Metro Radio Arena
Go Karting
Casino
Adventure Days
Are you a kind or cruel stag party organiser?  Give your stag an easy enjoyable day in the north east outdoors, or punish him with some serious fear inducing adrenaline rushes while gorge walking or tubing.  To make your life a bit easier Endless Adventure can arrange transport for you in the local area and provide you with a high quality DVD to relive your day over again.
http://www.endlessadventurenortheast.com/stag-hen/
Beer Tasting
If the usual tasteless lagers served in pubs leave your tastebuds a bit flat then why not book an expert beer tasting session with Advintage as part of your stag party?  You'll sample a variety of beers under expert guidance in a lively and informative two hour session.  If beer isn't your thing then you can also arrange port, wine and whisky sessions. You can hold the session in your home, accommodation or Advintage can help find a suitable venue.  Here's what you can expect from this unusual stag party activity:
Beer Tasting Package from £15 per person
10 beers tasted
Introduction to different styles of beer
Unique brews including "boutique" micro brewery
Pub Quiz team challenge
Booking information: http://www.advintagewine.co.uk/winecourses.php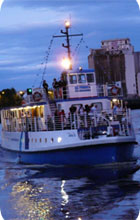 Party River Cruises
Set sail from the Quayside with your stag party on Newcastle's very own party boat!  Join a pre-arranged cruise for between £12-£25pp or even hire the boat for your exclusive use.
If the weather's good you can sit on the deck and catch some rays or if  it's chillier then just head inside to the boat's well stocked bar.  You'll be back on the Quayside with plenty of time to still enjoy the Newcastle nightlife.
http://www.riverescapes.co.uk/
Surfing and Stand Up Paddling
Ok, so getting in to the north sea isn't everybody's idea of fun, but if you're not soft and are looking for an alternative stag party activity then surfing is a great choice, and it's just 20 minutes from Newcastle city centre.
There's also Stand Up Paddling (like surfing but standing up with a paddle) and windsurfing.  Don't worry you get a wetsuit too.  Stag Party Idea:  A towel and warm clothes are essential for when you get out!
Surfing: http://www.tynemouthsurf.co.uk/
Surfing: http://www.northside-surf-school.co.uk/ (even has access to it's own private beach, but you'll need transport to Amble, approx 45 mins drive)
Stand Up Paddling: http://www.boardskillz.co.uk/
Guided Walks
If you want to get out and explore the North East countryside then a guided walk is a great way to make sure you get the best possible experience.
Explore Northumberland by foot:  http://www.paulmitchinson.co.uk/
EAT! Festival
If food is your thing then visit while the EAT! Festival is on – hundreds of chefs, restaurants and bars take part in a celebration of everything related to food and drink.
http://www.eatnewcastlegateshead.com/
Amsterdam Mini Cruise
If you're heading to Newcastle then why not head further afield with a mini cruise to Amsterdam sailing from the mouth of the Tyne.
You can jump aboard and be entertained all the way where you'll be able to spend about 8 hours in Amsterdam when you dock.
Diggerland Stag Parties
Want to try something different? Diggerland does VIP 'grown up' parties!
There's a whole bunch of different rides and all the stags are going to get the chance to operate REAL diggers, dumper trucks and other construction machinery.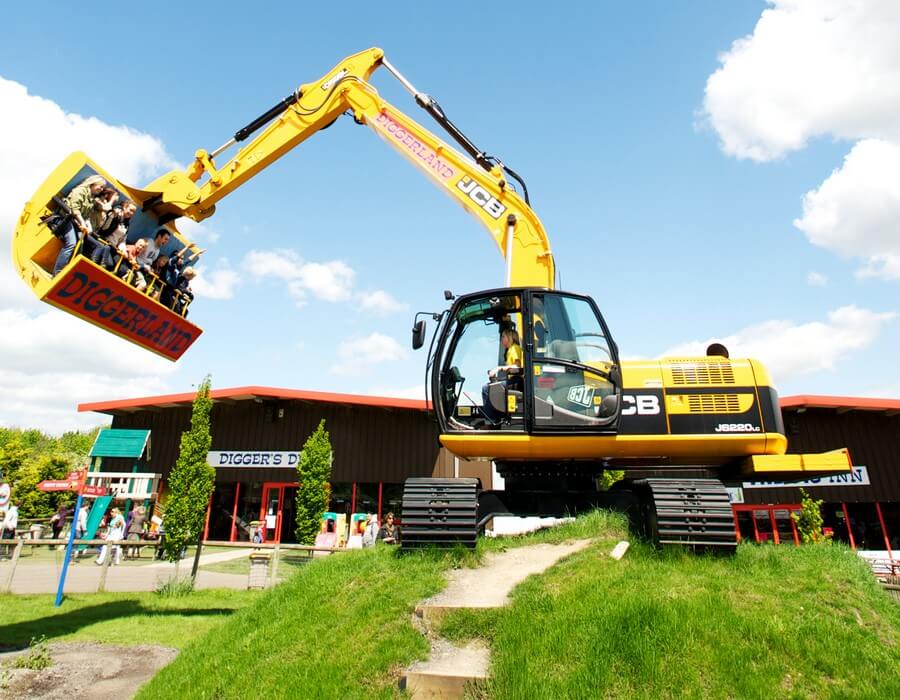 There's 3 packages to choose from: Daytime while park is open, Daytime while park is closed and Evening when park is closed – each with subtle differences. So it's even possible to get your VIP party booked when the park is closed to the general public. Check out the different packages here.
http://www.diggerland.com/parties-adult/
Evolution festival: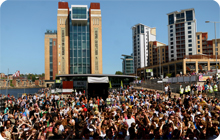 Held on the Gateshead Quayside this weekend music festival offers a wide line up of musicians and is a great alternative stag do idea if you're heading to Newcastle in the Summer.  Dates for 2012 are the 3rd and 4th June and acts include Dizzie Rascal, Rizzle Kicks, Maximo Park and Noah and the Whale – all for £35!
http://www.evolutionfestival.co.uk/
Classic Stag Do Ideas: Activities
Horse Racing:
Located just outside the city centre Newcastle races are a great way for people to get to know each other on a stag weekend.
Stag Party Idea: Think about starting a kitty with each person getting the chance to choose a horse. There's also a ladies day where the north east's finest really make an effort!
http://www.newcastle-racecourse.co.uk/
Football
Everybody knows how seriously football is taken in Newcastle and St James' Park is right in the city centre so it's well worth a visit on your stag do.  You can also take a stadium tour, and Executive boxes are available to hire for single games:
http://www.nufc.co.uk/page/Tickets/Home
Rugby:
Newcastle Falcons play just outside the city centre and still feature Jonny Wilkinson.  Check the fixtures and make it a sporting weekend by catching the football or horse racing one day and the rugby the next – a perfect stag weekend!
http://www.newcastle-falcons.co.uk/24_50.php
Treasure Hunt
Get your stag party on the move around Newcastle working together in teams with a Hunt the Goose treasure hunt.
You can choose an easy to set up self-managed hunt or you can opt for a fully managed solution from the treasure hunt experts.
http://www.huntthegoose.co.uk/
Hyena Comedy Club
A great night out for stag and hen parties is to go to the North East's top comedy club.  New acts are on every Friday and Saturday night and you can combine it with a meal to make organisation even easier.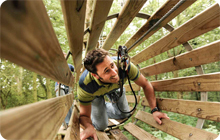 Go-Ape
Test if you've got a head for heights by trying the Go-Ape aerial assault course at Matfen Hall.  Located at a plush hotel approximately20-30 minutes form Newcastle City centre this is a great activity to get all the members of your stag party having a laugh.
http://goape.co.uk/sites/matfen
Metro Radio Arena
If it's a band you've heard of then they've been on at the Arena and there's some fantastic gigs coming up so why not take a look?  Most gigs finish about 11pm so there's still plenty of time for you  to experience the famous Newcastle night life:
http://www.metroradioarena.co.uk/
Go Karting
If you're a bit of a speed demon then give Karting a go.  It's a really good way for people to get to know each other and to introduce a bit of friendly competition (and perhaps even have a small bet on the outcome!)
Karting North East:  http://kartingnortheast.com/
Casinos
Located in The Gate, a city centre complex of bars and restaurants Aspers is a great way to round off a night or get your party started.
Alternatively you can try:
http://www.gcasino.co.uk/newcastle/
Where to drink:
You're certainly not short of places to drink on your stag party in Newcastle.  The city centre is covered by bars and below are some of the best areas to experience the night life:
Quayside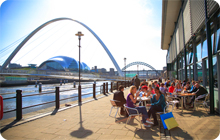 Fantastic in the summer where stag parties can sit outside soaking up the rays and enjoy a drink or get a bite to eat.
Pitcher and Piano: www.pitcherandpiano.com/locations/?area=Newcastle
Akenside
Sea Nightclub: www.youtube.com/watch?v=ZXYdAs-zO3g
Bigg Market
The famous (or infamous) party capital of Newcastle and a magnet for stag parties.  More rowdy than other parts of Newcastle with bars like Flares.  If you're not choosy about quality or décor then give it a whirl, at least you can say you've been (and survived).
Central Station
This area now has a wide choice of fashionable and cosmopolitan bars with a relaxed atmosphere. The central station area borders on the gay quarter of Newcastle (starting at Camp David) and is near Boulevards.  Top bars include:
Centurion: www.centurion–newcastle.com/
Revolution: http://www.revolution-bars.co.uk/newcastleut
Baby Lynch: www.babylynch.com/
Floritas: www.floritasbar.com/
Perdu: www.perdubar.com/
A useful website for this area: http://www.pubsnewcastle.co.uk/CentralStation.html
Jesmond
Slightly outside Newcastle city centre Jesmond is a mix of rich young professionals, students and rich students (don't let that put you off – it's worth a visit).  The bars are nearly all along one street called Osborne Road which is incredibly popular in the summer as nearly all have outside seating.  It's about £5 in a taxi from the city centre or you can jump the Metro which will get you within walking distance.
Where to eat:
Stag parties aren't short of places to eat in Newcastle, it's really a question of taste.
Newcastle has its own China Town near St James Park where you can get everything from fine quality at the Landmark to an all you can eat buffet at Lau's.
If you like your restaurants and bars all under one roof then try The Gate – it has the usual choice of chain restaurants and loads of bars which is a good idea if your stag do all want to stay in the same area (or if it's raining, which it does occasionally in Newcastle).
The Gate: http://www.thegatenewcastle.co.uk/
HanaHana: www.hanahananewcastle.com/
Lau's Buffet King: www.lausbuffetking.co.uk/
Zizzi: www.zizzi.co.uk/restaurants/newcastle
Sabatinis: www.sabatinis.co.uk/home.html
El Torero: www.eltorero.co.uk/
Secco: www.seccouk.com/
Have you been on a stag party to Newcastle?  Let us know where you ate and we can add it in to our article for future stag parties.
Other Useful Resources
NGI: www.newcastlegateshead.com
Newcastle/Gateshead Pocket Guide: http://www.newcastlegateshead.com/xsdbimgs/NGI%20Pocket%20Guide.pdf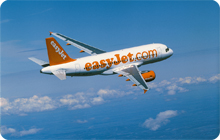 How to get there
Newcastle is an incredibly easy city to get to – it has its own international airport, city centre railway station and nearby ferry terminal.   Here's a few of our recommended sites:
Rail:
Trainline: www.thetrainline.com
Plane:
(Newcastle  Airport is about 15 minutes from the city centre by Metro (http://www.nexus.org.uk/metro).   Its booking code is NCL – remember this if you're looking for flights, it makes it much easier.
Easyjet:  www.easyjet.com
British Airways: www.britishairways.com/edinburgh
Car:
http://www.theaa.com/route-planner/index.jsp
Coach:
National Express:  www.nationalexpress.com
Stag Party Safety
Geordies are known for being a friendly bunch but there's always the chance of trouble on a stag weekend so read our Essential Guide to Stag Party Safety to help make your party memorable and safe.
Help make this article better
Have you been on a stag do to Newcastle?  If you have any recommendations on where to eat, drink or classic, alternative or unusual activities to do on a stag party to Newcastle just leave your comments below and we'll do our best to include them.
If you're thinking of heading to Newcastle on your stag party then why not consider these other northern cities: York, Liverpool, Manchester, Edinburgh, and Glasgow.