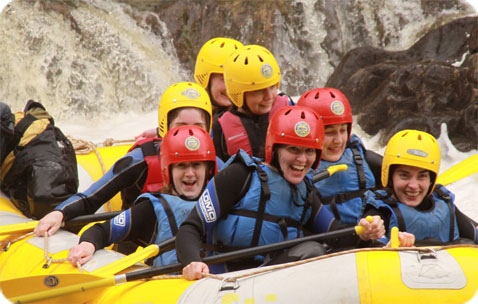 Edinburgh has more than its fair share of international travel and tourism awards and is full of great hen party ideas
The capital city of Scotland has places to eat, drink and stay for every hen party budget and taste and our guide will give you some great ideas to get you organising the perfect party.  Read on for advice on travel and outstanding activities, ranging from the classic to the more unusual and alternative hen party activity ideas, to make your hen party the one that everybody remembers.
Hen Party Ideas: Activities
There are some great hen party activity ideas in Edinburgh either in the city centre or a bit further afield.  An activity is a great way to spend some of your hen do – it helps everybody get to know each other and can help work off a hang over from the night before.
Edinburgh Festival Fringe
If you're having your hen party in August then the Edinburgh Festival Fringe is a great idea.  Taking place over three weeks the festival is reportedly the largest arts festival in the world.  During the festival you can sample top class entertainment from world famous comedians, musicians, dancers and even opera.
Treasure hunt
Get to see the city, test your problem solving skills and have really good fun with an Edinburgh treasure hunt. There's a variety of hunts to choose from including spy challenge, code breaker and even a pub challenge to keep your hen party going for an afternoon.  You can choose to have an organised treasure hunt, or if you'd prefer to manage your own (it's incredibly easy) you can be sent the kit and take care of everything yourself.
http://www.huntthegoose.co.uk/Locations/View/scotland-edinburgh.aspx?gclid=COSdjtTis6kCFVJX4QodpGqJKQ
Crafty Hen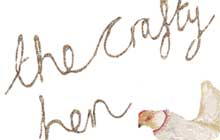 If you are after alternative hen party ideas then why not book a craft workshop and your hen can bond while making some great things for the wedding including tiaras, fascinators, table decorations or bunting.  Or if you want something a bit more flirty then you can also make garter and nipple tassels! The great thing is that each workshop is tailored to what you want and the experienced workshop leader brings everything you need for the day, making this a really easy activity to organise.
http://www.thecraftyhen.co.uk/
White Water Rafting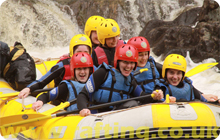 Definitely not for the faint hearted, but definitely memorable!  You can have a go at white water rafting, canyoning or duckies, but they all have one thing in common – you will get wet!
If you want to stay dry but still want an adrenaline rush then you can even give bridgeswinging a go – yes it is as mad as it sounds and definitely an alternative hen party idea.
Tailored packages are available for hen parties so you can get something to meet your exact needs. Hen party idea:  These activities will not be for everybody so it may be worth arranging an alternative or at least having some suggestions for those who don't want to take part (the treasure hunt above is a good idea).
Watch a video:
Arthur's Seat
If your hen party needs to blow away the cobwebs then head up this iconic landmark for some fresh air and fantastic views of the city.  Hen party idea:  If you're thinking of doing this then don't forget your walking shoes and perhaps a waterproof jacket (it is Scotland after all).
Spas
Revive, relax, and rejuvenate in the heart of the city with your best friends with a relaxing spa day.  A spa day is a great way to shake off the excesses of the previous night or completely chill you out before heading for a night out.  Hen party idea:  Why don't all the hen party club together and pay for a few treatments for your bride?
There's plenty of spas to choose from in Edinburgh for your hen party, here are just a few:
The Balmoral: http://www.thebalmoralhotel.com/
Zen Lifestyle: http://www.zen-lifestyle.com/
Norton House: http://www.handpickedhotels.co.uk/hotels/norton-house/
One Spa: http://onespa.com/home.html
Roxburghe Hotel: http://www.macdonaldhotels.co.uk/roxburghe/leisure/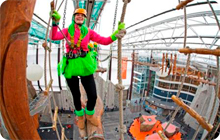 Climbing
Located just outside the city centre Edinburgh International Climbing Arena is a good hen party idea – you'll be kept under an expert eye and can climb as high as you feel comfortable.  Climbing walls range from 12m to 25m and you'll be given a tailored training course to get you started.
Need to relax?  There's even a spa on site if it all gets a bit too much.
Where to drink:
The people of Edinburgh love a good time and there are some fantastic bars and clubs for when your hen party is in full swing.  Remember; call ahead to get on the guest list and check the door policy if you're in fancy dress or there's a particularly large group of you.
Grassmarket
Particularly popular in the summer when every bar has tables and chairs outside the Grassmarket is a good area to head for a drink on your hen party.
Hen party ideas for a drink in the Grassmarket:
More info at: http://www.grassmarket.net/
George Street
George Street is the more cosmopolitan area of Edinburgh with a sophisticated feel to it.  George Street runs parallel to Princess Street so head for the centre of Edinbuegh and you shouldn't have any trouble finding it.
There's plenty of places to grab a cocktail (or two) and a decent bite to eat and here's just a few:
Tigerlily: www.tigerlilyedinburgh.co.uk
The Living Room: http://www.thelivingroom.co.uk/venues/edinburgh/
Le Monde Hotel: http://www.lemondehotel.co.uk/drink/
All Bar One: http://www.allbarone.co.uk/allbaronegeorgestreetedinburgh/
Find out more about George Street: http://www.edinburghgeorgestreet.co.uk/
If you want to try somewhere a bit different then you may also want to try  Cowgate, Leith, or the Old Town.
Find out more about bars and restaurants in Edinburgh:
Or check out this Youtube video:
Casinos:
If you want to see if your luck is in then there's a few casinos in Edinburgh to choose from.  Hen Party Idea:  Why not all put a few pounds in a kitty and let the bride do the gambling!
Circus Casino: http://www.gentingcasinos.co.uk/circus/casino/5/edinburgh.html
Maxims Casino: http://www.gentingcasinos.co.uk/maxims/casino/16/edinburgh.html
Gala Maybury Casino: http://www.galacasino.co.uk/gc2/local-casinos/casino-finder/scotland/edinburgh.html
Stanley Cascades Casino (Leith)
How to get there
Being Scotland's capital city Edinburgh has the associated travel options, so it's easy to get to.

Rail:
Trainline: www.thetrainline.com
Plane:
Edinburgh Airport (booking code EDI) is only 25 minutes by bus from the city centre and has national and international flights.
Easyjet:  www.easyjet.com
British Airways: www.britishairways.com/edinburgh
Car:
London to Edinburgh by car is about 8 hours so if you're travelling this far then you'll need to make it a hen weekend!
http://www.theaa.com/route-planner/index.jsp
Coach:
Worth thinking about as an alternative to taking the car or getting the train – journey times aren't that much different.
National Express:  www.nationalexpress.com
Where to stay
Whatever you are looking for in accommodation Edinburgh has it all – from city centre budget hotels, to first class trendy boutiques with the full five star treatment.
Help make this article better
Have you been on a hen party in Edinburgh?  If you have any recommendations on where to eat, drink or activities to do on a stag party to Edinburgh just leave your comments below and we'll do our best to include them.
Stay Safe
We want you to have a fantastic hen party where everybody stay safe which is why we've written the Essential Guide to Hen Party Safety.