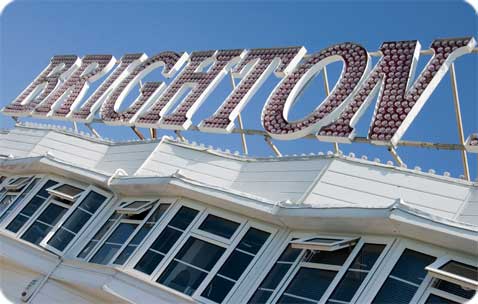 Vibrant and fun with a great beachfront location just an hour's travel from London, Brighton offers a fantastic range of mainstream, alternative and unusual stag do ideas for activities, nightlife, comedy and culture.
Here's an idea of what you'll find in this article:
Classic Stag Do Ideas
Adventure Activities
Treasure Hunt
Go Karting
Clay Pigeon Shooting
Paintball
A Bit of Everything!
Sightseeing Buses
Brighton Racecourse
Greyhound Racing
Comedy Club
Casino
Lap Dancing
Alternative & Unusual Stag Do Ideas
Boat Trips
Paragliding
Fairground & Arcade
Bike Hire
Old Style Photos
Ghost Walks
Sightseeing Flighs
Beach Sports
Guided Walks
Stag Do Ideas: Activities
Crammed with activities Brighton is a great choice if you want a stag do packed full of fun.  From beach sports to aerial sightseeing there's an activity to suit every size of stag do and all budgets, and being on the south coast it is partial to a bit of sunshine.
Adventure activities
Give your stag party something manly to do like climbing, abseiling, kayaking, or even bush craft and coasteering.  You can choose activities that last just a couple of hours to the whole weekend – depending on how adventurous you are!
Stag Party Idea:  Groups of 10 or more receive a 10% discount
http://www.thehatt.co.uk/adventures/
Treasure Hunt
A Hunt the Goose treasure hunt is a great stag party idea if you want to get your mates working together on the move.  You can choose a fully managed hunt or to manage your own with an easy to use kit.
http://www.huntthegoose.co.uk/
Go karting
A classic stag party activity idea, go karting is a great way to get your stags having a laugh as you chase each other at up to 40mph round the track:
http://www.qleisure.co.uk/weekend-stag-hen-parties.php
Clay pigeon
What could be more manly than being handed a loaded shotgun?  Have you got the quick reactions and skills to take down the clay as it hurtles from the trap?  Qualified instructors will take you through the basics and safety before you give it a go and the sharpest shooter gets a trophy at the end.
http://www.qleisure.co.uk/weekend-stag-hen-parties.php
Paintball
This is alternative paintballing!  No hiding in muddy woods for ages waiting for your one shot, this is extreme close quarter action.  Set on artificial grass with inflatable obstacles the arena is a small area so it's impossible to miss the action. Stag Party Idea:  Buy plenty of paintballs, you'll need them!
http://www.qleisure.co.uk/weekend-stag-hen-parties/brighton_paintball.php
A bit of everything!
Fancy trying go karting, paintballing and clay pigeon shooting all in the same day?  Why not book a package for your stag party where they get to try a bit of everything – a sure way for everybody to have a great time.
http://www.qleisure.co.uk/weekend-stag-hen-parties/archery-quads.php
Sightseeing buses
Hop on board and see Brighton the real tourist way during your stag party on a city sightseeing bus! With their open tops and distinctive designs you can't miss them as they pass the well known tourist spots including the Royal Pavilion, Brighton Pier and the beaches.  Hop on and off wherever you fancy for just £8 per day.
http://www.city-sightseeing.com/
Brighton Racecourse
With a packed schedule of over 20 races each year and a regularly changing schedule of extra events there's always something going on at Brighton Racecourse for your stag party.  Stag Party Idea:  If some of your party aren't regular betters then share this link on the basics of betting:
http://www.brighton-racecourse.co.uk/horse-racing/beginners-guide.php
http://www.brighton-racecourse.co.uk/
Greyhound racing
One of the fastest greyhound stadiums in the country with a long, sweeping track you'll be in for a great night on your stag party if you take a trip to the Brighton Greyhound Stadium.  Stag Party Idea: Admission is free on a Friday so it's extra cash for betting if you're on a stag weekend.
http://www.brightonandhovegreyhoundstadium.co.uk/
Comedy club
According to The Independent this is THE place to catch stand up comedy in Brighton, so be sure to book a table during your stag weekend.  Stag Party Idea: Get a table near the front so the acts can have some fun with the stag.
Casino
Based at Brighton Marina with great views over the English Channel the casino is a great way to spend a couple of hours and to keep your stag do together, rather than getting split up trawling the bars.
A visit to the casino doesn't need to be on a night either, it's open all day and shows all the football matches so is a good choice for an afternoon too.
Stag Party Idea:  Set up a kitty so your groom can have a few bets paid for by his friends, he may even buy you a pint if he wins big.
http://rendezvouscasino.com/brighton/home/
Lap dancing
See your stag off in style by having a beautiful booty waggled in his face.  There's three lap dancing clubs to choose from in Brighton:
Spearmint Rhino Rouge (sorry, no website)
Alternative & Unusual Stag Party Ideas
Paragliding: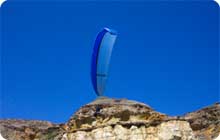 Want a truly memorable and alternative stag party?  Then why not learn the basics of paragliding on this one day introductory course?
By lunchtime you should be off the ground and by the end of the day you'll be aiming to be 200ft in the air!  If you want to skip all the technical learning and let somebody else be in control you can book a tandem flight with the British Champion, Steve Purdie.  Stag Party Idea:  The maximum weight for a tandem flight is 15kg so get everybody on the scales before you book!
Boat trips
See the Brighton area from a completely new and unusual perspective on your stag do by hiring a boat for a trip to sea.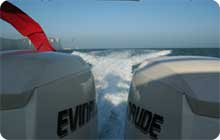 Take to the seas in a party boat with an outdoor deck, music system, bar and toilet as you cruise along the coast.
If you like your tours a bit more high speed then hop on board a high powered speed boat.  You can even stop off at a few bars on the way!
http://www.sussexvoyages.co.uk/page8aaa.html
Powerboat Trips
Get in to the bucket seats of one of these high performance racing boats for the ultimate blast along the coast.  The great thing about this activity is that everybody in your group will get a go in charge of the boat!
http://www.fullthrottleboatcharters.com/stag-hen-ideas/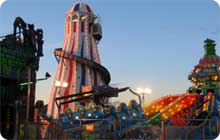 Fairground & Arcade
Let your inner child out on over 1,772 feet of fun at Brighton Pier. Accelerate from 0-60mph in less than 3 seconds on the Air DiverSuper Booster, or watch the world spin in to a blur around you on Twist and Galaxia.  If that's a bit too hardcore for you then hit the arcades to race or blast your mates in to submission.  Stag Party Idea:  Take lots of change for the arcades!
http://www.brightonpier.co.uk/
Bike Hire
See Brighton the scenic way on your stag party and blow away the cobwebs from the night before with some refreshing see air:
Old style photos
Get a great memento of your stag party by getting your photo taken in a historic style.  The friendly, professional team will help you pick the perfect costume, such as a gangster or cowboy posse, then take you in for your sitting in this alternative style photoshoot.
http://www.brightonflashback.co.uk/
Ghost walks
Take a walk through the darker side of Brighton and find out about the pub haunted by the victim of one of Britain's most gruesome murders,  or the bricked up door and a brutal murder in the police cells.  Join one of the regular ghost tours or make a private booking for your group for just £100.
http://www.ghostwalkbrighton.co.uk/
Sightseeing flights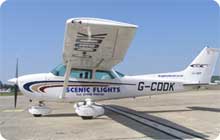 Take to the skies on your stag weekend and see Brighton in a completely new way with a sightseeing flight.  Stag Party Idea:  Do not get drunk before this activity – you'll be turned away.
http://www.brightonscenic.co.uk/
Beach sports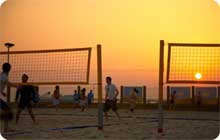 Head to this unique venue for all the beach related sports you can think of – football, volleyball, rugby, and even ultimate Frisbee.  You can hire a court or book a taster session or class if you want to learn some new skills.  Stag Party Idea: After your session you can head to the Barefoot Café to chill with a drink and some food.
Guided walks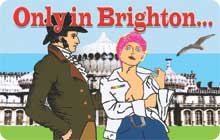 Find out what makes Brighton unique in this 80 minute guided walk that reveals interesting facts and local landmarks that have shaped Brighton in to the vibrant, alternative city it is today.
http://www.onlyinbrighton.co.uk/
Self guided tours
If you want to see the city on your own then there's a range of self guided tours available to download as MP3 files to get you moving round the city:
http://www.visitbrighton.com/site/maps-guides-and-interactive/podcasts
Events
The Brighton Dome is really three venues within one; the Corn Exchange, Concert Hall and Pavilion Theatre where you can catch comedy, concerts and culture on your stag party.
Food and Drink:
From super cool wine bars serving champagne and oysters to traditional real ale houses, there's a pub for everyday of the year in Brighton, and then some more.
Stag Party Idea: Don't forget about greyhound racing, the casino, gigs and lap dancing clubs all detailed in our Activities section above.
Travel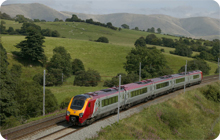 Brighton is a great choice for stags travelling from the south of the country- it's under an hour on the train from London, and a 45 minute drive from the capital, but be warned parking is at a premium in the city centre.
Train
http://ojp.nationalrail.co.uk/service/planjourney/search
Coach
http://www.nationalexpress.com/coach/index.cfm
Car
http://www.theaa.com/route-planner/index.jsp
Help us!
We're always looking at making our articles better and we need your help.  Have we missed something that you did on your stag party in Brighton?  Let us know and we'll include it!
Stay Safe
We want you to stay safe on your stag party to Brighton, which is why we've written the Essential Guide to Stag Party Safety.