This small, walled city is a perfect destination for hen parties; it's a beautiful, cultured city to walk round with hotels and restaurants to suit every budget and activities to take part in whatever your tastes.  Read on for the perfect hen party ideas in York…
Classic Hen Do Ideas:
Aerial Assault Course
Quad Bikes/Rage Buggies
Laser Combat
Multi Activity Days
Go Karting
Ghost Tour
Diggerland Yorkshire
Sophisticated Hen Do Ideas:
River Cruise
Record Your Own Song
Cycling
Treasure Hunt
York Races
Cookery School
Restaurant Tour
Glamping
Hen Party Ideas: Activities
From tree top assault courses to culinary delights, and everything in between, York has it all so you won't be short of great hen party activity ideas, from the classics to the unusual and alternative!
Aerial Assault Course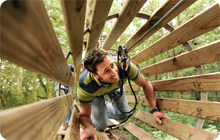 A great afternoon for your hen party is to tackle an aerial assault course.  Suspended in the trees you'll need a lot of bottle as you try zipwires, platform jumps and swings to get across the course.
Hen Party Idea:  This type of activity is perfect for fancy dress, just be sure to check with the centre that what you're planning is practical and safe.
Go on unleash your inner ape, you might even meet Tarzan!
http://goape.co.uk/sites/dalby
http://www.camphill.co.uk/activities/aerial-extreme-high-wire-adventure-course.html
Quad bikes/Rage Buggies
Take it easy on purpose built quad bike courses or let your need for speed take control in a Rage Buggy – voted the best off road vehicle around.
http://www.camphill.co.uk/platinum-activities.html
http://www.motomaniatrax.co.uk/
Laser Combat
Are you a sneaky sniper or an assault rifle Rambo?  Grab your weapon of choice and take your hen party on a 21st century laser battle.  Hen Party Idea:  Make sure you check the weather and dress appropriately.
http://www.camphill.co.uk/activities/laser-combat.html
http://go-ballistic.co.uk/en/activity/laser_combat/york/oTown-960238_oAct-7_oCat-1
http://activity-guide.co.uk/en/activity/laser_combat/york/oTown-960238_oAct-7_oCat-1
Multi-activity days
Having difficulty choosing which activity you want to try then why not give a few a go on a multi-activity day?  This is a great choice if you've got a mix of girls on your hen party who may have different abilities.
Go-Karting
Go karting is a great hen party idea if you want a classic activity that almost everybody will enjoy.  Hen Party Idea: Why not get a couple of small trophies, they're only a few pounds each and will give people something to compete for and a memento of the event?
http://kartingnation.co.uk/en/venues/oTown-york
http://www.proam-karting.co.uk/
Ghost Tour
York is an ancient city and has more than its fair share of ghastly horrors if you know where to look, and no we don't mean the Micklegate area on a Saturday night!  Get your hen party on a guided tour to see the spooky city of York, if you dare!
http://www.ghostdetective.com/
Diggerland Yorkshire
Want to try something different? Diggerland does VIP 'grown up' parties!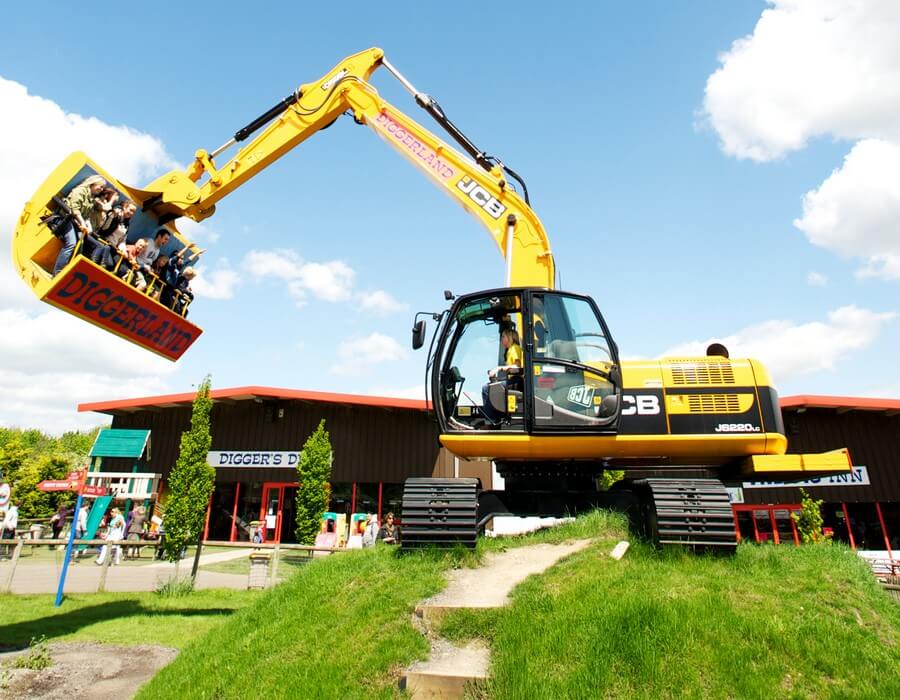 Imagine all the hens getting the chance to operate REAL diggers, dumper trucks and other construction machinery – plus unlimited goes on all the Diggerland rides.
There's 3 packages to choose from: Daytime while park is open, Daytime while park is closed and Evening when park is closed – each with subtle differences. So it's even possible to get your VIP party booked when the park is closed to the general public. Check out the different packages here.
http://www.diggerland.com/parties-adult/
Sophisticated Hen Do Ideas in York
Crafty Hen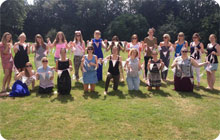 Get your hen party to make something really memorable and special for your big day with a Crafty Hen workshop.  You can sew or knit fascinators, button holes, table decorations or if you want something more risqué then you can make garters, knickers or even nipple tassles!
http://www.thecraftyhen.co.uk/
River Cruise
Hen parties can choose from two very different types of cruise in York:
Pink Moon Cruises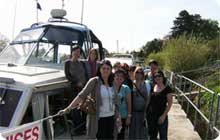 If you're after an alternative and unusual hen party and have quite a small group (12 or less) then you can book this fully operational sea going motor cruiser.  During your 2 hour cruise, you can take the helm of the boat and steer on the quieter stretches of the river both into and out of the City.
You can choose from a Gold or Silver cruise, costing £25 or £32.50 which include refreshments, and the Gold cruise also includes a finger buffet.
If you want a shorter cruise then a 1 hour cruise from the Ship Inn to the Bishop's Palace and back is available at £10 per person including tea/coffee and biscuits.
http://www.pinkmooncruises.co.uk/
York Boat
Day or evening boat trips are a great way to see York and you can hop on board one of the regular 45 minute trips or even make your own private booking.
Record your Own Song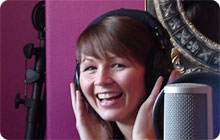 Get up to 25 of your hens in this professional studio to record your favourite song!  Don't worry they have autotuners so you'll sound fabulous.  Plus they'll even arrange to have your track played in a local bar/club for you the same night as well as copies for you to take home.
http://www.precentor.co.uk/services.php
Cycling
Try a different kind of cycling by jumping on a Mega Bike.   You can choose from multi seater fun bikes where you all face the centre of the bike or dare you hire the pedal powered sofa?
http://www.getcycling.org.uk/megabikes.php
Treasure Hunts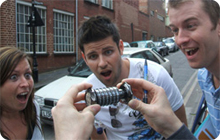 Get your hens on the hunt!  A treasure hunt is a great hen party idea if you want to get your hens working together, especially if they don't know each other.  There's a range of game types available from crack the code to pub crawl and you can choose to have a guided hunt or manage your own.
http://www.huntthegoose.co.uk/Locations/View/north-york.aspx
http://www.treasure-hunt-fun.co.uk/
York Races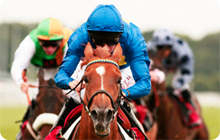 Head to one of the country's top race courses with your hens and see if you can make your fortune.  You can book online, including hospitality, so your activity can be sorted in just a couple of minutes – why wait!  Hen Party Idea: Ask your hens for a few pounds each to pay for your bride's betting for the day.
http://www.yorkracecourse.co.uk
Cookery School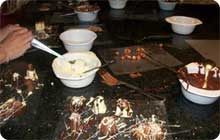 Turn your hens from kitchen novices to cordon bleu chefs with a hen party cookery course.  Expert chefs will give you the confidence and skills to cook up a feast in the kitchen that looks and tastes great in this great idea for an alternative hen party!
http://www.harmonyhousecookeryschool.co.uk/specialdays.htm
Restaurant Tour
If you and your hens are real 'foodies' then this is a great activity and night out rolled in to one.  You'll get to visit four restaurants in one night that all follow a theme; Mediterranean, posh nosh, modern eclectic and historic York restaurants.  You'll have a guide for the whole evening and the restaurants are only 5-10 minutes apart.  Hen Party Idea:  Wear something with an elasticated waist for this unusual but filling hen party activity!
Glamping
If camping isn't your thing then try this sophisticated alternative which offers unique accommodation for every visitor.    You can choose from safari tents, hobbit pods and tipis and book some extra bits of luxury such as an Eco Spa and sauna, champagne and BBQ hampers.
Food and Drink
York is a small city so it's easy to find your way round and the restaurants and pubs are close together so it's a popular choice with hen parties.  It's a good idea to let restaurants know you're a hen party and get your name on the guest list for pubs and clubs.  Yeah, it's a pain but it really does save problems on the night.
Here's a couple of bars you may want to try –  most do food which means your hen party are all together longer (getting split up is inevitable!)
Food
A couple of restaurants for you to choose from, but don't forget the Restaurant Tour or Cookery School listed in the Activities section above:
Hen Party Idea:  Why don't you break up your night a bit with a ghost tour (listed in the Activities section above)
Travel
York is on the east coast mainline so is a great choice for rail travel and it's also pretty easy to get to in the car.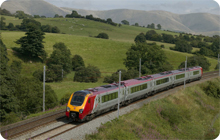 By Train
York is only 2 hours from London and 2 ½ from Edinburgh so wherever your hens are travelling from in the UK the train is a good choice.
http://www.nationalrail.co.uk/
By Car
York is pretty easy to get to by car and is only 20 minutes from the M1/M62.  Hen Party Idea:  Check if people can car share – it's a good ice breaker for people who don't know each other if they travel together.
http://www.theaa.com/route-planner/index.jsp
By Air
The closest airport is Leeds/Bradford but you may find it easier to travel by car or train if you're in the UK already.  Hen Party Idea:  The booking code for Leeds/Bradford airport is LBA – enter this when looking for flights, it's much quicker!
Help us!
We need hen parties that have been to York to help make this article better.  Use the comments box below to let us know where you went and what you did or if we've missed anything and we'll do our best to include your suggestions.
If you're thinking of a northern city for your hen party why not consider Newcastle, Liverpool, Manchester or even Edinburgh?
Stay Safe
We really want you to have the most memorable and safe hen party which is why we've written the Essential Guide to Hen Party Safety.