Everyone enjoys receiving a gift bag, even adults! They're the best way to start off a celebration and it also shows how thankful you are to all of your besties for joining you on your last night of freedom.
So, whether you're hitting the town, going on a weekend break or even having a hen party at home, everyone will appreciate a bag full of goodies. Here are some great ideas that should appeal to all of your hens.
Ideas for Hen Party Gift Bags
Bags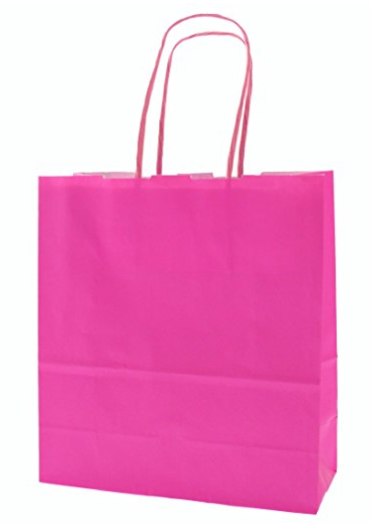 Before you can make hen party gift bags, you're going to need the bags! This set of ten paper bags should be exactly what you'll need; they're 18cmx20cm so they're the perfect size to fill with gifts.
Since they're plain, it also makes them totally customisable, you could decorate the bags to personally suit each of your hens.
Hen Party Bag Idea #1 – Nail Varnish
Nail varnish is always a great idea for a girly gift bag. By buying a set of nail varnishes, you'll be able to give each of your hens a different colour. Plus, depending on what you're doing for your hen party, everyone could do each other's nails to match their outfits.
These Beauty 4 Britain nail varnishes come in a great variety of colours, from pinks to oranges, to darker shades and you even get some glittery nail polishes too. You get 24 colours all together, so there'll definitely be a shade that suits each of your best friends.
Hen Party Bag Idea #2 – Shot Bottle
What better way to get the party started than by providing your hens with a good old shot. Not everyone likes the same flavours, so by getting different flavoured shots, the hens could easily switch with each other.
These mixed flavour shots from Quivers come in test tube style packaging, which instantly makes them ten times better. You get 36 of them in a box, so depending on how many hens you have at your party, you could even put two shots in each of their gift bags. Shots are the true party starter!
Hen Party Bag Idea #3 – Beauty Products
Getting glammed up for a hen party is loads of fun, it's a good excuse to go all out and make yourself feel flawless! Help your hens get that perfect look with a beauty product.
Not all women like to wear a lot of makeup, so it might be a good idea to go for products like mascara rather than something like foundation. You can't go wrong with a black mascara and this one by L'Oreal is amazing! It adds loads of length to your natural lashes in just one sweep and your hens should definitely thank you for this brilliant gift; they'll be fluttering their lashes all night long!
Hen Party Bag Idea #4 – Dares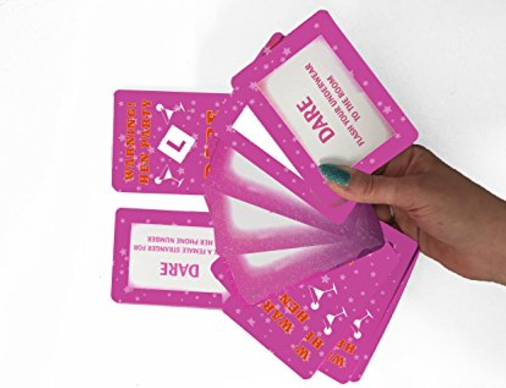 Doing dares definitely pumps up the night, they also provide loads of laughs and will get all of your hen's bonding.
Put a different dare into everyone's gift bag, and during the hen party, all of the hens must carry out their dare. If they refuse, then you get to chose a punishment!
In this pack you get 24 cards that already have a dare written on them, so you don't need to think about making them up yourself. These cheeky dare cards are brilliant, you're sure to be entertained all night long.
Hen Party Bag Idea #5 – Love Hearts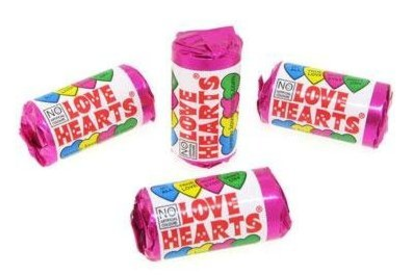 The friends that have made it onto your hen party list obviously mean something to you, so why not show them how much you love them with some sweet little love hearts.
This pack of 20 mini Love Hearts are the perfect way to show your hens that even after you've tied the knot, you'll always love them. Also, they're probably great for snacking on during the walks between bars.
Hen Party Bag Idea #6 – Glow Sticks
Let's be honest, everyone loves glow sticks. They may be tacky, but they're also pretty and fun to decorate yourself with. With a pack of 100 glow sticks, you and your hens can literally cover yourself in them.
In fact, scrap the rest of the gifts, just fill the hen party bags with glow sticks! These glow in the dark sticks also come in 7 different colours, you'll be the most colourful group on the dance floor. Plus, if you get all of your hens to wear them, you'll never lose each other in the club; just look out for glowing ladies!
Hen Party Bag Idea #7 – Lollipops
Have you ever gone into the toilets at a club, noticed the lady selling lollies, then realised that suddenly, you're craving a lolly and you're actually willing to buy it for £2? Well, save your hens some money and stick a fruity lollipop in their gift bag!
This set of 30 Vimto lollipops is perfect, they're fruity, tasty and are sure to hit that lollipop craving.
Hen Party Bag Idea #8 – Novelty Glasses
When it comes to hen parties, there's always got to be a little bit of dress up involved. Novelty glasses are a great choice because they're the best for posing with in photographs, especially if you're in a cramped club.
These star shaped glasses come in 5 different colours, so if you pair them with the colourful glow sticks, your hen party will look like a walking rainbow! You also get 24 of them in a pack, so there's enough to kit out all of your hens.
Hen Party Bag Idea #9 – Disposable Camera
Give all of your hens a disposable camera and tell them to fill up the roll with pictures of the hen party. The disposable camera from Fuji allows you take 27 photographs, so if all of the exposures are used, you'll end up with tonnes of pictures from the night. They also feature a flash which is great for if you're in a dark club or bar.
Once all of the pictures have been developed, invite your hens around, crack open a bottle of wine and prepare yourself for what's to come. There may be a few accidental pictures of the floor, but you're sure to unveil some hilarious photographs that you can keep forever as mementoes of your last night of freedom.