Guest Blog: LGBT Stag & Hen Parties
Where Should Your Last Night of Freedom Be? A LGBT Round-UP
Intro
Now that UK legislation recognises the marriage of same-sex couples, there's bound to be a rise in stag and hen celebrations for gay or lesbian couples looking to tie the knot. Back in the day, the hen or stag night was just that, one night of debauched fun where the soon-to-be newlywed could let their hair down with close friends and family. Nowadays, stag and hens can take up a whole weekend, or week, and are in no way limited to your local nightclub. Taking place all over the world, and often involving an 'experience' or 'activity', stag and hen dos can take a lot of organising from the best man or maid-of-honour. With some interesting statistics from stag and hen organisers Eclipse Leisure, here is a look at some of the best LGBT-friendly destinations and activities for stag and hen events.
London: Best for a big night out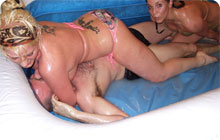 The UK capital is a popular choice for both stag and hens and has a massive number of LGBT events and venues that are perfect for a gay stag or hen do. For a big, commercial night out head to G-A-Y, one of the UK's most famous gay venues or head to the Monster night at Candy Bar for a lesbian and bi-women party. Hen dos typically enjoy a party-bus night in London and stags prefer to see an oil-wrestling show. For something more intimate, keep an eye out for pop-up events such as LGBT literary readings or film festivals.
Amsterdam: Best for a party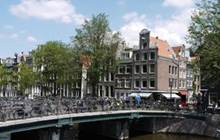 Amsterdam is a real cross road of different influencers and is famed for its liberal attitude. Approximately 20-30% of people in  Amsterdam are gay, and the city has a wealth of gay bars, clubs, saunas and party boats to experience on a final night of freedom. Top activities to enjoy on a stag or hen in Amsterdam include a tour of the Red Light district and cocktail making lessons. The city is also home to an old Heinekin brewery which offers tours and there's also the Van Gogh Museum to see and the canals to explore on bike or boat.
Berlin: Best for men
Berlin has an exclusive clubbing scene where people go to see and be seen. There are a number of gay neighbourhoods in the Schoneberg, Kreuzberg and Prenzlauer districts. These neighbourhoods have a number of gay bars, cafes, shops and clubs, with the biggest concentration found in the Schoneberg area. Berlin has a history of gay-friendly venues with men-only dance halls dating back to the 1920s. The top stag activity for Berlin is the Beer Bike – a great way to sight-see, exercise and drink – this pull-along pub comes complete with pedals underneath your bar stool, barrel of beer and mobile phone system!
Ibiza: Best for beaches
The party pinnacle of Europe is a great holiday destination for a stag or hen break. The ravers in Ibiza are known for being open-minded and welcoming to everyone, whatever their sexual orientation.  Gay couples and groups are welcome at all of the beaches on the Ibiza coast but Es Cavallet is the most popular with the LGBT community. Ibiza also has a great selection of gay-friendly hotels to stay at on your stag or hen, check out the Garbi Ibiza Hotel & Spa, Es Vive Hotel and the Lido Apartments.
Lisbon: Best for a sophisticated weekend
Lisbon is a great choice for a laid back weekend before the big day. Lisbon attracts a chic crowd who like to enjoy incredible food and wines. There are a number of daytime cafes and bars in the quirky and welcoming gay neighbourhood of Bairro Alto. There are also gay-friendly nightclubs to let your hair down in if all the refined wine tasting and shopping gets too much. Relax in the sun on the beaches south of Lisbon. The further south you get the less family orientated and conventional the beaches are. In the summer, the beaches are connected together by train and the trendier beaches, with nudist spots and gay bars are at beaches 17 and 19.
Brighton: Best for something cheeky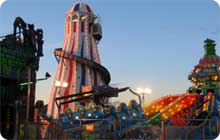 Known as the LGBT capital, Brighton has long been a favourite party destination with a fantastic selection of gay-friendly pubs, nightclubs and activities. Tie in a stag or hen do with the August bank-holiday Pride festival to make the most of the festival-like atmosphere that grips the city – as well as a chance to soak up the sunshine on the pier or enjoying some traditional fish and chips on the beach. Top activities for hen and stag dos in Brighton include cabaret, cheeky butler service, deep-sea fishing and clay pigeon shooting.
Find out more about different experiences to try on your pre-nup party, from hen weekends in London to stag weekends in Newcastle with EclipseLeisure.co.uk.