Great ideas to keep your hen party sophisticated
Does the thought of L plates and trashing round the pubs fill you full of dread?  It does us too! Which is why we're glad to see more and more brides looking for sophisticated hen party ideas.
That's why we've put together this handy list of our top sophisticated ideas, but be sure to check out our city guides for ideas on the exact city you may be visiting.
Sophisticated hen party ideas:
1: Get away from it all
The easiest way to keep out of trashy pubs in busy City centres?  Avoid them all together! There are some amazing places for hen parties to stay at, from Scottish castles to cabins in the woods. The reason this is a great idea is you are away from it all and every aspect of your hen party is under your control. This does mean you will need to make your own entertainment so don't forget to check out our Mr & Mrs questions – great for an evening with the girls.
2: Pamper your hens
A classic sophisticated hen party idea which doesn't need much explaining. You can book your hens in to a swanky spa but don't forget many therapists and beauticians offer home service – a great idea if you are on a budget or have booked accommodation away from home.
3: Do something different
Every UK City has hidden gems of ideas for sophisticated hen party ideas – from cookery classes in York to boat trips in Newquay – just check out our in depth City guides. Using the day time of your hen party to do an activity means you avoid the pubs longer, it helps your hens bond especially if they don't know each other and it gives everybody something memorable from your party.
4: Stay in and hire in
Who says you have to hit the town on your hen party? There are plenty of great entertainers and professionals who can come to your house- from beauty therapists, to cookery teachers, chefs, wine tasting classes and hunky topless waiters if those plates of canapés are just too heavy.
5: Go out and keep your class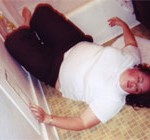 If you want to head in to town then there are plenty of easy ways for you to keep your class rather than trawling the bars. Our top ideas include research a good restaurant that will accommodate all your group, pick a few bars you really want to visit and book a reserved area, and always be sure to book taxis home.
6: It's the little things
Taking a hen party from ordinary to sophisticated can be all in the detail, with little touches and attention to detail making your party extra special. Instead of fancy dress or tacky t-shirts pick a theme such as 'red carpet glamour' or 'diamonds'. One of the biggest things that will keep your hen party sophisticated is your behaviour and the biggest factor in this is alcohol so be sure to drink sensibly (we always find sticking to the most expensive drinks helps you moderate your intake!)
7. Book in advance
How does booking in advance keep your hen party classy?  Well if you don't book anything thinking it'll be fine to just turn up then the chances are you'll be disappointed.  The natural thing to do then is to go to the pub to think things over, even though it's only lunch time, and that's when things get messy.  Book all your activities, restaurants and nightclubs in advance – it'll help you keep control of costs, keep everybody together and keep your hens sophisticated.
8. Stay safe
Nothing takes a hen party from classy to trashy quicker than trouble and being safe on your night out is such an important topic we've written a whole article on it with the great team at the Suzy Lamplugh Trust.
9.  It doesn't just happen
Sophisticated hen parties don't just happen, they take planning and preparation so make sure you put the effort in before you go – there is no harm in being Henzilla to get the perfect party!
We hope you have a great hen party!