10 Killer Hen Party Themes
As chief bridesmaid you've got the honour of making sure your hen party theme is awesome, but that's no easy task.
Balancing a sense of fun against how embarrassing a theme is as well as how much it can all cost can be a head ache.
Bet we're on hand to help solve your hen party theme problems but putting together these awesome themes to suit any budget, and hen party type. And that's the tricky bit. How do you choose a hen party theme that hits the mark? Do you go for full on cheesy and risk a humiliated bride or do you go classy and get accused of being boring?
Well of course we can't tell you exactly which hen party theme you should choose but we can make your job a bit easier by giving you 10 amazing suggestions to help you decide.
Here some tips for choosing the right hen party theme:
What would your bride be comfortable with? Slutty strippers might be your idea of fun but would your bride be having fun in scanty clothing?
Where are you going? Keep in mind the venue or bats you are going to, they may have dress codes so it's always worth checking first before rocking up dressed as nuns.
What is the temperature. This doesn't make sense at first but Baywatch swimsuits in winter in Newcastle isn't a good idea – leave the bare skin to the Geordie girls.
What can people afford. On you may be on a great wage with no kids but think about the rest of the group- a hen party can be a huge outlay for some people.
Make your hens feel good. The girls are much more likely to want to get dressed up if they feel like it makes them sexier or look better rather than just being embarrassing – a 50 shades hen party theme is good for this.
Please note: We keep this site running by being paid a commission from links we give you to Amazon and we are testing some new ways of displaying links which don't work on mobiles (but look great on desktops).  So if you're on a mobile there's nothing wrong with the site it just won't display the links.  Please buy something it keeps us motivated to keep delivering great content!
Our top 10 hen party themes:
Popstars
Beyonce, Madonna, Dolly Parton, Lady Gaga, Jessie J – the list is endless and your hens can get as creative as they want with this theme.   It's a great, lighthearted hen party theme that can be great fun – you can guarantee your hens will hit the dance floor every time a song is played by the artist they are dressed as!
 
Animals
The great thing about this hen party theme is your hens can choose which animal they go as and how far they go with the costume. It could be as simple as this tiger accessory set and adding some whiskers with make up or they could get full fancy dress out fit or even an animal print onesie.
50 shades
This is another classy hen party them which will have your hens looking incredibly hot and is actually pretty cheap to get together. We've found these amazing sultry eye masks on Amazon that your hens can wear to give them a bit of sexy mystery. You can take this further by getting some small whips or other accessories.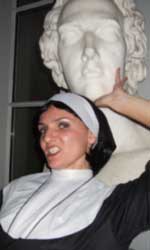 Nuns
This can be as simple as a habit head dress and a cross or you can go the full way with a head to toe outfit depending on how daring you are.
 80s style
"Let's get physical, physical…" If that didn't ring any bells then this hen party theme may not be for you! However if you're a child if the 80's (like me!) then you'll love the chance to break or the leg warmers, neon headbands and spandex! This is a great fun and cheap hen party theme – some people may even have some original 80's clothing in the back of the wardrobe instead of going to Amazon!
Hawaii
Being a bit of tropical sunshine to any party with a Hawaii theme. Flowery shirts, garlands and over the top cocktails are all just part of the fun with this hen party theme.
 Red carpet
If you want to keep your hen party sophisticated then this is a great option: get your hens in their finest glad rags for a red carpet move premiere theme. This is a great option if you want to stand out form the crowd but want a sophisticated hen party theme – there's no embarrassment, just glamour!
Police women
This is probably the definitive hen party theme! It's been a classic for many years and is guaranteed to get you spotted as a hen party. the great thing about it is that it's really simple to put together – most of your hens will have a white shirt, black skirt and fishnets in their wardrobe somewhere. After that you just need a policewoman accessory set – like this one.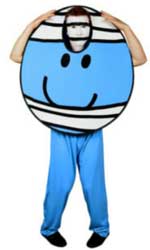 Cartoons
This is a bit tricker to pull off but the results can be impressive. All your hen party have to come as a famous cartoon character – think Marge Simpson, Jessica Rabbit, Lucy Wild from Despicable Me etc. This can be either form costumes they've made or as simple as buying a ready made costume.
Diamonds
Another classy hen party theme that doesn't rely on embarrassing everybody in the group. For this theme our hen party all just need to be wearing something to do with diamonds. It could be an over the top costume jewellery necklace, a diamond print top or just diamond earrings. It doesn't make your hen party stand out in a crowd but everybody in the group will feel part of it if they all have something in common.
Photo Credits:  All from Flickr