Keith Lemon has gone and got himself a new telly show, called 'LemonAid'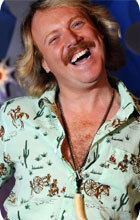 Ok, you're best man.  You accepted this honour after a few pints and thought no more about it.
But now it's dawned on you the enormity of the responsibility; the stag party people will talk about for years and the speech that will make everybody shed tears of laughter and emotion.
His new show is all about helping people solve a problem or make a dream come true and is perfect for the best man in need.  Here's a few suggestions of how he can help:What can you pull out of the bag that will make YOU the best man that becomes a legend?  Easy,  get the funniest man on't telly Keith Lemon to help you.
Co-write your speech.  You and Keith delivering the best speech ever.
Perform a reading at the wedding
If you're thinking of getting married and want Keith to get involved then here's how he could help:
Help plan your proposal
Create your wedding dress
Of course you might have your own ideas and he'd love to hear those too…
So, if you're getting married between the 1st March and 14 April 2012 and a MASSIVE Keith Lemon fans  then get in touch at: lemonaid@talkbackthames.tv