World's Worst Wedding Dresses
From swingers to celebrities and ladies to ladettes our choice of wedding dress symbolises the future hopes and dreams of every woman.
In fact most of us spend a large chunk of our lives envisioning the big day and how glorious we'll look in the dress that we've spent countless hours creating in our heads, right down to every sequin and stitch.
So, if you're having a few dilemmas over your dress or are stressing about how you're going to look then sit back, grab a cup of tea and spend a few minutes  cheering yourself up!
We've spent a bit of time pulling trawling the internet for the very worst wedding dresses we could find.
The "You're all invited to be part of our wedding night" Dress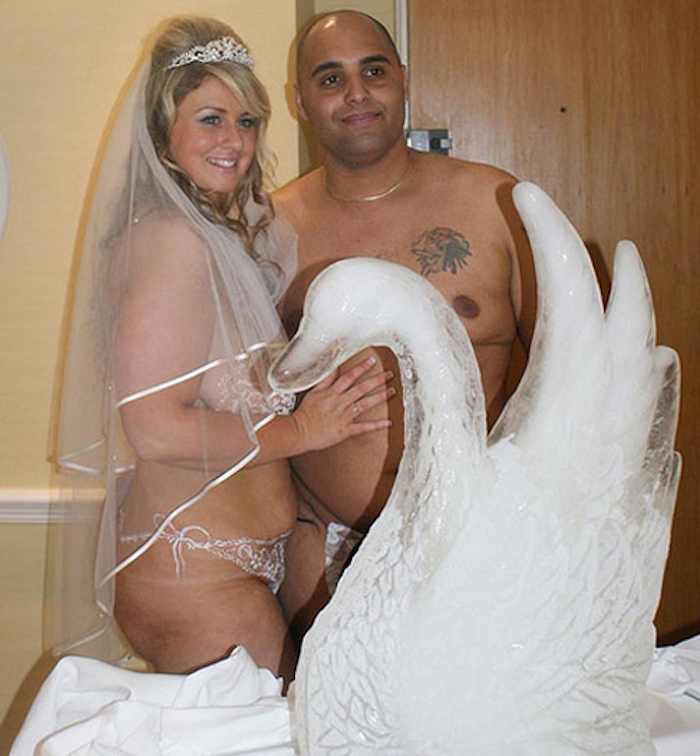 If we didn't know any better we'd think this was a picture from their wedding night, but no this is the actual outfit they chose to wear for their vows.  A swingers party surely?!!
All we can say is thank god for that swan.
The "Inspired by sweet wrappers" Dress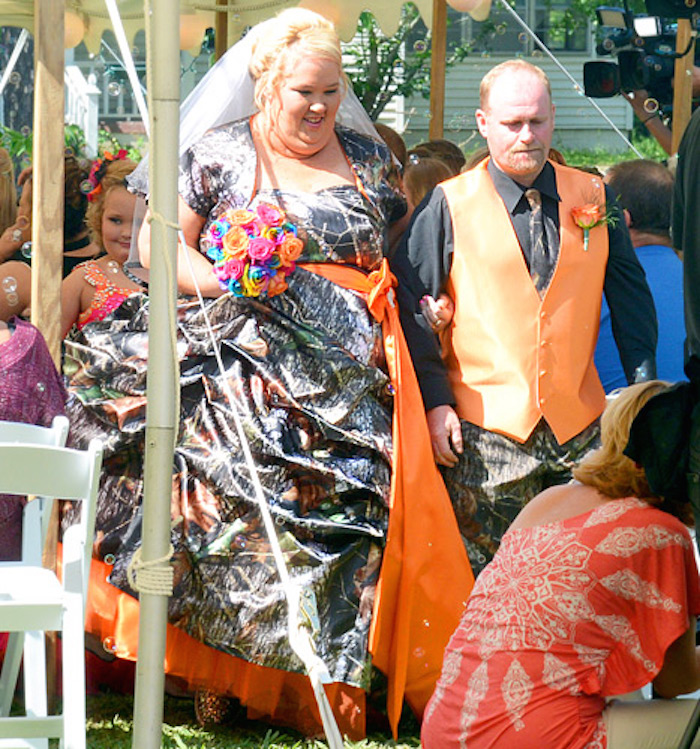 There's a lot of metallic fabric going on in this contender for worst wedding dress and it's obviously been inspired by some kind of chocolate wrapper – we're guessing Terry's chocolate orange.
The "I can see why you're marrying her dress"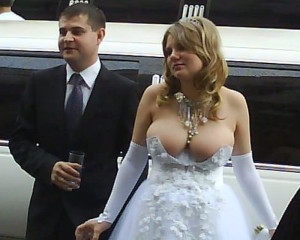 Her mother must be so proud.  And so must his dad.  We were hoping this was a king of Judy Finnigan moment where the bride didn't realise her dress had slipped down, but sadly not – she really is just putting her best assets out there.
The "Is that Lady Gaga" Dress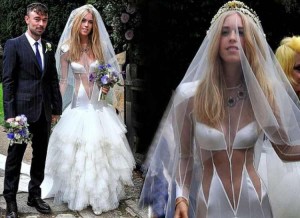 It's not Lady Gaga, but it is a real life lady – Lady Mary Charteris to be exact.  Proving that money can't buy style Lady Mary went asked the same person who does fashion design for Lady Gaga for her wedding dress.  Well, at least she did't turn up covered in raw meat.
The "Is Jordan getting married again" Dress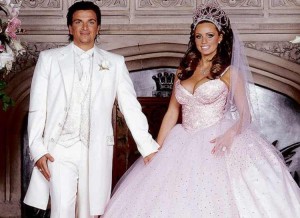 The queen of all gypsy style Jordan pulled out all the stops with the little beauty when she married Peter Andre.  That's actually as close as Peter could get because the dress was so big!
The "Is there a toilet roll under there" Dress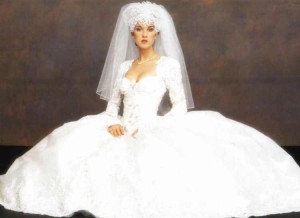 Somebody should have told Celine Dion to "Think Twice" before putting this on.  Closely modelled on the toilet roll holders you find in every nana's house the only thing worse is the awful head piece resembling something from Bride of Dracula.
The "Dresses are so yesterday" Dress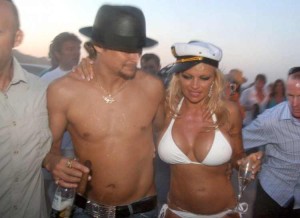 Proving that low key really can work at a wedding Pamela Anderson chose a white bikini when she married Kid Rock back in 2006, while the groom also kept it casual going shirtless and holding a huge cigar.  Classy.
The "Classic Gypsy Bride" Dress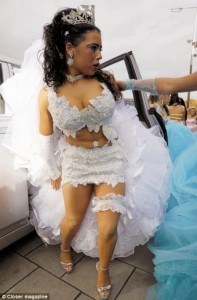 Gypsy brides do like their bling don't they?  Yes, of course wearing a mini skirt is fine for your wedding if you put some sparkles on it.  Christ knows where her 'something blue' is!  This takes the hunt for the worst wedding dress to a whole new level!
The "One dress to rule them all" Dress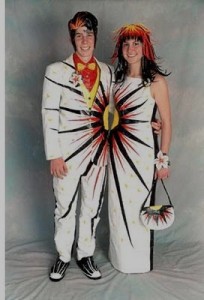 Not many of you will get that but it's reference to the all seeing eye of Lord Sauron in the Lord of The Rings.  Anyway this is an absolutely awful wedding dress.  And she has a dead parrot on her head.
The "This is how I always imagined it would be" Dress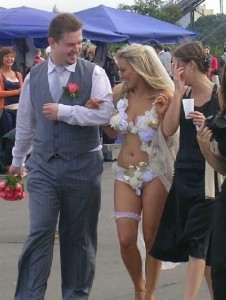 Many of us spend our childhoods dreaming of what our wedding dress will look like then spend many hours in the run up to our wedding finding the nearest we can to that dream.  In this case we really don't know what this girl must have been dreaming about all those years ago, but he seems pretty happy about it.
The "It's yours" Dress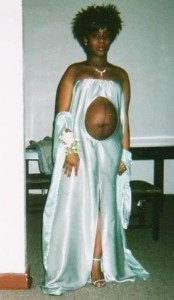 Well this dress certainly makes a statement.  We really, really wish we could have seen the groom's face.
The "It's all about the bass" Dress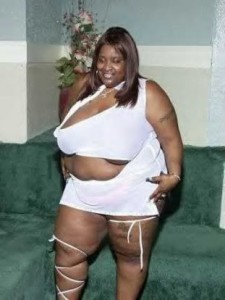 We're all body conscious but not this sexy, sassy lady – she's letting it all hang out.  And over.  Nothing says 'I Love you' like a bit of underboob on show.  This could be our top candidate for the world's worst wedding dress.
We hope you feel a bit better about your search for the perfect dress and we're sure you'll look beautiful whatever you wear.
Did you enjoy this article?  Then don't forget to share the love by sharing on Pinterest, Twitter and Facebook